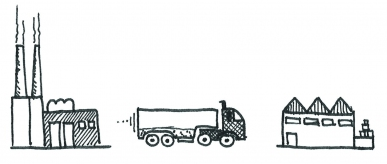 The comment period for the latest round of public discussions by the Forest Stewardship Council (FSC) on their proposed update to the new Chain of Custody (CoC) stand ends soon.  The 3rd draft was published on 15 June, and the official public consultation period ends on 31 August 2016.
We strongly recommend that everyone take part in this consultation.  The details of the FSC Chain of Custody standard are important to over 30,000 participating companies around the world.  Typically, only a few hundred firms will provide direct feedback in consultations like this.  If your company has an interest in this process (if you read this blog, you probably do), then you should take the time to tell FSC what you think.
MixedWood's line-by-line summary
MixedWood has completed a careful analysis of the version 3-0 draft, and summarized our findings here.  Our line-by-line summary is posted online and may be shared freely.
We have provided this summary, as well as reference to other commentary on relevant topics to FSC staff.  If you agree with the MixedWood analysis and commentary; we would be grateful if you would tell this to FSC.  This is true also if you disagree.  FSC needs to hear from us.
Some Highlights
There are some real signs of progress in the latest FSC CoC document.  These are mostly evidenced by the lines colored green in our line-by-line summary.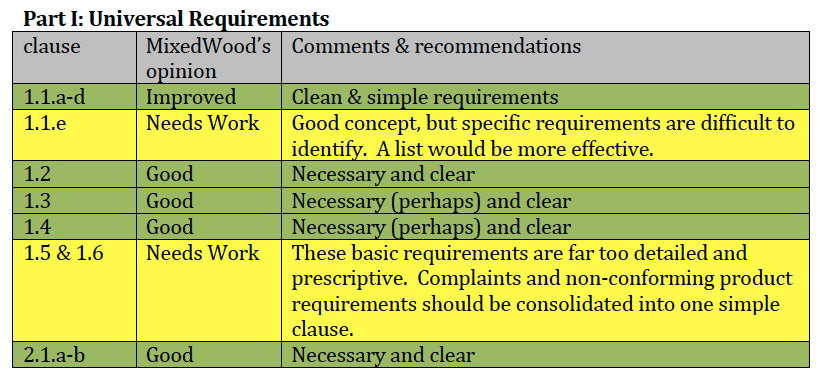 There is a lot of green, and this is a good thing.  Many of the yellow sections relate simply to overly complex and specific wording.  Fixing these sections will should mostly be a matter of making them shorter.  When writing conformance standards, discipline is vital:  less is usually more.
The "bad" sections of the draft are highlighted in orange in our summary:

The standard simply includes a number of clauses that are both unnecessary and counter-productive.  The solution?  Remove them.  It is that easy.
TV: Still There & Still Dangerous
The draft – of course – still includes Section 7, which introduces Transaction Verification and the complex criteria related to the Online Claims Platform.  You can read more about this in our previous post.  And much, much (too much) more about it our earlier writings.

The solution to Section 7 should be easy:  drop it.