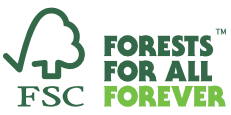 Did you know that the Forest Stewardship Council is holding a meeting this week in Chicago?  We've been asking colleagues this question recently and been surprised at how many answered no.  The meeting is aimed at FSC members (yes – that includes MixedWood) but will be attended by non-member certificate holders as well.  It is only the second meeting hosted by FSC-International in the US, which makes it important, we think.
The venue is the Warwick Allerton Hotel in downtown Chicago.  FSC staff did a good job keeping the costs under control, and we were pleased to see, from the registration list, that attendance is likely to be respectable.
We wrote an article at the time of the last FSC regional meeting (Dec. 2016 in NYC) entitled "Who is the Forest Stewardship Council".  Our intention was to call attention to the overly narrow group of participating organizations and people who guide the policy and decision-making of the FSC.  This remains true today, but we see sincere attempts to change things for the better.  This meeting is part of that.
MixedWood will be represented this week in Chicago and taking part in the discussions.  We plan to share our observations on the big day.  We hope you'll follow along and – more importantly – tell us what you think.  Do you have questions or comments that you'd like to direct at senior staff and board members?  Please share them with us and we'll pass them along.
We are fond of the old adage:  the world is run by those who show up.   MixedWood will be showing up this week.  Please help us make it count.