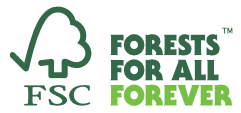 Next week, the Forest Stewardship Council (FSC) will be hosting a "Regional Membership Meeting" at the Stern School of Business in downtown Manhattan. This meeting is the last of a series of regional meetings held over the last few months at selected locations around the world; including Bali, Bonn, Johannesburg, Moscow, Lima, and now New York City.
MixedWood is pleased to be participating in this 2-day meeting. The agenda is ambitious, covering many of the key policy and operations challenges that are facing the FSC and its many stakeholders, including:
FSC Global Strategic Plan
Controlled Wood Strategy
FSC North American operations
FSC Governance
The Intact Forest initiative
FM standard development
National Risk Assessment (NRA)
We are pleased to see an appreciable turnout – particularly in light of somewhat short notice and a very expensive venue. The list of attendees is weighted heavily towards ENGO's and large US corporations, but the group looks diverse and knowledgeable enough to ensure an engaged discussion.
Members versus Stakeholders
In anticipation of the NYC meeting, it is helpful to consider the nature of the FSC as an organization. As a practical matter, the FSC functions as a facilitating and sponsoring organization for a global marketplace for "sustainably sourced" wood products. In this capacity, it engages the participation of some 33,000 organizations that apply and promote the FSC program on a day-to-day basis, and fund the organization through their licensing fees. The FSC is justifiably proud of this impressive network of "stakeholders" and report its status in a monthly Facts and Figures publication.
The FSC – however – is principally a membership organization.   Its governance and policy-generating apparatus function at three levels:
Professional staff (termed the Secretariat) – who run things from day-to-day and make most meaningful decisions;
A 12-member Board of Directors – elected by the membership and "balanced" according to chamber assignment (see below); and
Periodic General Assemblies of the membership – held every three years and open to all members.
Members of the FSC can be either individuals or organizations. Voting rules assign most weight to organizations, but make no distinction for size. Each member is assigned to one of six "chambers", designed to ensure balanced influence between the "global north & south" and of Economic, Environmental, and Social interests.
The distinction between Stakeholders and Members is an important one that is rarely discussed. This is because, while the FSC has at least 33,000 global stakeholders, it has less than 900 members.
The FSC membership roles are not publicly available, but they are accessible to members. We downloaded the latest list and did some simple analysis – producing this summary: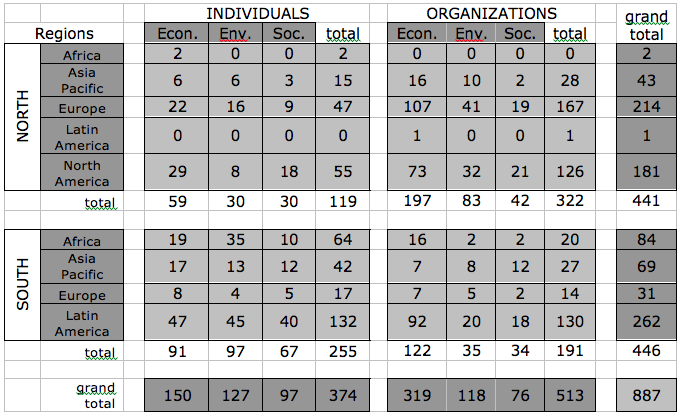 This table is a little bit dense, but quite interesting, and contains a few key messages:
FSC Membership is astonishingly small. For an organization of global scope and major market significance, decision-making authority rests with just a handful of the affected community.
Participation is very different in different regions. The European "south" (which includes Russia), for example, is represented by only 14 organizations, despite accounting for nearly 25% of certified land area.
It is also worth mentioning that membership is not the same as participation. We have been told repeatedly that FSC staff often struggle to keep members engaged. This suggests that real decision-making authority rests with a much smaller group than is presented here.
The list of Stakeholders is harder to access and analyze. FSC staff does a pretty good job in their most recent Facts & Figures , summarized in 2 interesting charts. The first is for Forest Management (FM) certification: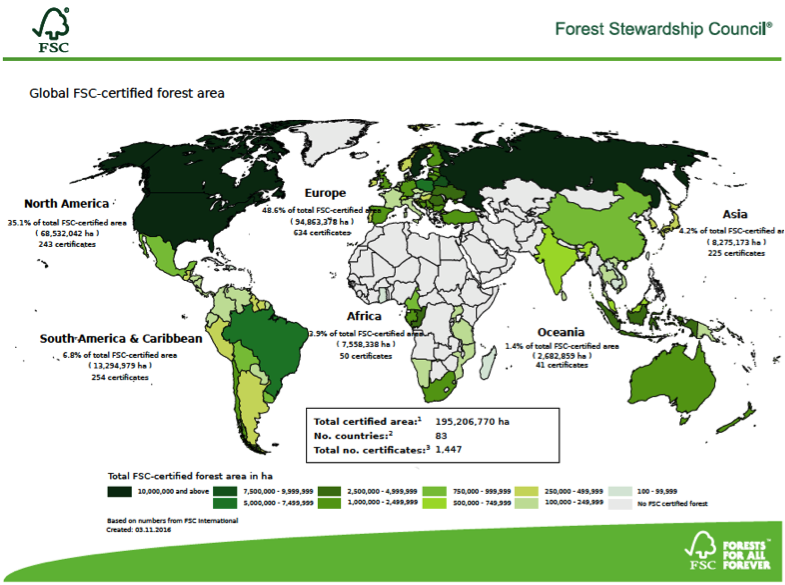 Another is for Chain of Custody (CoC) certification: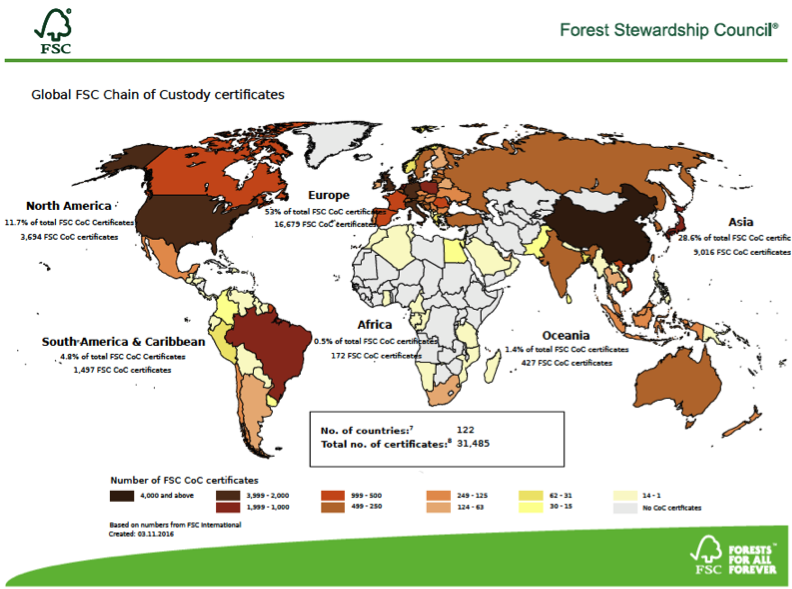 Some points of interest:
The vast majority of FSC Stakeholders are companies (commonly called Certificate Holders (CH)) holding CoC certificates.
CoC CH's are heavily concentrated in Europe, North America, and China.
The proportion of all CH's who are also FSC members is extremely small. Probably about 300 or less than 1%.
Why does this matter?
In spite of a clearly stated objective to "streamline and simplify" its certification program, the FSC continues to add cost and complexity at an increasing rate. This much is clear, but the reasons behind it are less so. We think the answer may lie in the nature of FSC participation, engagement, and accountability.
The remarkable disparity between FSC stakeholders and FSC members is one problem that deserves further attention. We think it can be solved or, at the very least, substantially improved. But it will require some focused attention. Here are some ideas:
For the FSC: An Objective to Broaden the Base. We think FSC staff (globally and locally) need to aggressively recruit membership from the vast array of disengaged stakeholders. This will be challenging; and may mean re-thinking and radically overhauling the communication style, to encourage and retain engagement.
For the Stakeholders: A Commitment to Get Involved. For non-member CH's: there is no need to wait for an invitation. Step up and join the FSC. After joining, get involved in the conversation. Demand accountability and expect to be held accountable.
For all of us: An Investment in the Community: This year's regional meeting should be the start of a regular and growing series meetings of members and stakeholders. Conversations, debates, and relationships will strengthen the program, and provide solutions to problems we don't even know we have.
The FSC is currently working under an extensive and detailed Global Strategic Plan, which, in all fairness, includes some hints along these lines. It's overall theme, however, remains frustratingly self-promotional. It's message is – in essence – FSC is already wonderful, let's work harder to make it more wonderful!! What is lacking is any meaningful appreciation of the FSC's glaring weaknesses, some of which we have called attention to here. We think an honest appreciation of our problems, following by a re-focus on core principals, will lead us to a stronger place in the future.
UPDATE (14 Dec 2016):  MixedWood attended the FSC-IC regional members meeting in NYC on 6-7 Dec 2016.  The session was well attended by over 90 knowledgeable and engaged people.  Most were from the US and Canada, but several traveled from other parts of the world as well.  As we suspected, the diversity of the attendees left something to be desired – dominated by representatives of large North American corporations and NGO's.  We were impressed by the open, constructive, and collaborative dialogue.  But we remain worried that practical accountability and decision-making in the FSC is much too narrow.