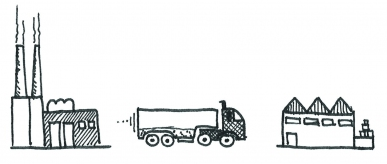 The long, long process of updating the Forest Stewardship Council's (FSC's) important Chain of Custody (CoC) standard may finally be nearing an end. We learned, along with others at the regional meeting last week in New York City, that the Board of Directors has approved  a final version of FSC-STD-40-004 v.3-0.  Earlier this week, the staff posted a short Decision Record giving hints about what is coming.
Here is a summary of the interesting points (click above for the whole document):
The FSC BoD approved a revised version of FSC-STD-40-004 v.3-0.   We do not know exactly what revised means yet. It is clear that this final version differs in some significant ways from the last public discussion draft – analyzed by MixedWood in August.
The BoD also approved a revised version of the main accreditation standard for CoC (FSC-STD-20-011). We have learned that new requirements often find their way into the FSC program by way of this set of rules for Certification Bodies (CBs). Presently, STD-20-011 v.2-0 is in effect, and due to be replaced by v.3-0 in June 2017. Now it appears that the FSC has decided to replace v.3-0 with v.4-0, before it is even implemented.   This new document deserves a very close look when it is published.
Multi-site application of percentage- and credit-based claims was approved, subject to some sort of yet-to-be-defined monitoring requirements.
A new rule for products containing non-wood, neutral content seems to have been rejected, but may be re-inserted in the near future.
The rather complicated "Transaction Verification" proposal from the August draft appears to have been dropped in favor of a simple requirement (clause 1.7) to "…support transaction verification by (the) certification body…"
The FSC continues to torture itself on the subject of "False Claims", "Supply Chain Integrity" and the infamous Online Claims Platform. We see promising signs, however, that we may have turned the corner; and will be seeking solutions that do not include complicating an already complicated supply chain standard. Time will tell.
We continue to be puzzled at the slow pace that important information like this is shared with members and stakeholders. The two key standards that have been approved are of vital importance to the business of more than 33,000 companies around the world. They have been actively under review, discussion, and debate for more than three years. Now, the final decisions have been made, but the documents remain a secret. Why?
ALSO – For readers who followed our recent post entitled "Who is the FSC?", please click back to read our brief update with some observations and thoughts concerning the recent regional membership meetings.