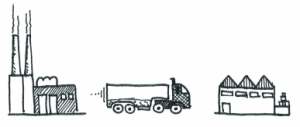 At long last, we have an official discussion draft for the proposed update to the very important Chain of Custody (CoC) standard of the Forest Stewardship Council (FSC).  This is the first, substantial update to this standard since 2007.  Since that time, Chain of Custody certification has evolved from an interesting, but still minor, marketing opportunity, to the indispensable business credential it it today.  We have learned a lot in 7 1/2 years and it is time to but those lessons to work.
After nearly 3 years of quiet development, FSC-IC published its discussion draft of FSC-STD-40-004 v.3-0 on 19 December 2014.  You can download it, and follow FSC's communications concerning the update process here.
First Analysis and Annotation
MixedWood has begun a careful analysis of the published draft, and will be sharing our comments and recommendations here in the coming weeks.  For those who are interested, we have produced an initial, annotated version of the draft standard.  It includes our first impressions of the proposed, new standard; as well as a number of observations and recommendations about how we think it can be improved.
Please feel free to share the MixedWood annotations with anyone who may be interested.  Feel free to download, copy, and distribute it freely.  If you disagree with our comments, please let us know.  If you agree, but have other constructive ideas to offer, we would like to hear about this as well.
This is important
Chain of Custody is expensive and details matter.  This may be our very best opportunity to make real and significant improvements to the FSC Chain of Custody program.  I hope we will all collaborate and give it our best effort.
We wish all our friends and colleagues a Happy Holiday Season and a Peaceful and Prosperous New Year.