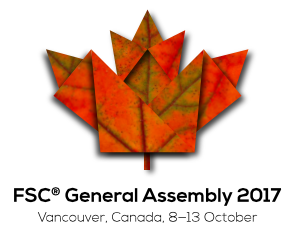 As we mentioned in our last post (just this morning), MixedWood is attending and participating in the Forest Stewardship Council (FSC) 2017 General Assembly, underway this week in the beautiful city of Vancouver, British Columbia.  Today was the opening session of the 6-day meeting, and we were impressed to see a crowd already gathered when registration opened this morning.  Over 750 people are registered and more expected to join us later in the week.  The participants are a remarkably diverse and engaged group of people.  We are expecting an interesting and active week.
Governance
The topic for today's opening session was FSC Governance and the lesson of the day seemed to be pretty clear:  the FSC's unique and innovative system of governance is both its greatest strength and its key weakness.  We have written on this subject before, in an article last winter called "Who is the Forest Stewardship Council".  Please take a moment to look at it again.  It's very relevant to the events of this week.  Today's session might have been self-congratulatory, but it definitely was not.  FSC leadership and staff are engaged in a challenging and ambitious effort to re-think everything about the organization.  The effort is praiseworthy, but it is hard to see much in the way of results.
We were encouraged to see that FSC identifies consensus among the key objectives of its governance system.  There seems to be broad agreement that this consensus should extend beyond FSC's rather narrow membership community, to include its 30,000+ business stakeholders.  The means to actually do this remain rather unclear.  We see this key weakness of FSC continuing for some time.
Strategy
The day finished with a wide-ranging discussion related to FSC's 2015-2020 Global Strategic Plan.  A live, web-based question interface allowed meeting attendees to propose questions to a panel, and to promote questions we liked. We were especially pleased to help get the subject of Supply Chain Integrity and fraud onto the table.  We found the discussion , which included General Director Kim Carstensen, refreshingly honest and practical.  Could it be that the "false claim" myth has finally run its course?  Time will tell.
Tomorrow
Tomorrow's program includes Chamber meetings in the morning, followed by concurrent technical sessions.  The afternoon will have a High Level Forum with some featured outside speakers.
We will have more commentary to share during the day.