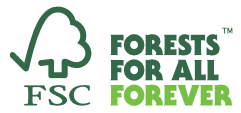 We need to call your attention, once again, to the important FSC Controlled Wood program.  This is FSC's approach to the ubiquitous problem of Due Diligence.  For many of us, it lurks behind the scenes and out of sight.  We need to remember, however, that it is essential for holding together the whole marketplace for certified wood products.  Without Controlled Wood, CoC certification simply will not work.
The Forest Stewardship Council (FSC) completed the last major overhaul of its Controlled Wood program in 2018.  MixedWood was very active – along with several other consulting firms – in the process.  We wrote a number of articles on the subject, including this from November 2019, with updated links to a User's Guide we created.
When FSC-US announced a series of Controlled Wood Regional Meetings earlier this month, we made a point to attend.  There were three in all – held in Portland, Oregon; Asheville, NC; and Atlanta, Georgia.  All were well attended and MixedWood was present for the two eastern ones.  FSC-US staff did a good job leading a healthy discussion about the implementation process of the Controlled Wood standard across the US.  The group – a mixture of certified companies, consultants, and other interested folks – provided candid and constructive feedback.  It was refreshing to share in a "real life" discussion like this after nearly 3 years of pandemic isolation.  A healthy experience.
One of the key takeaways from the meetings was a renewed need for US Controlled Wood stakeholders to remain engaged in the policy formation process underway at the international level.  Several revisions and updates to key standards are underway or expected in the coming year:
An ongoing Public Consultation for an update to the FSC guiding procedure for creating Risk Assessments (FSC-PRO-60-002a). This important document is currently under review and has received very little attention.  If you have an interest in keeping Controlled Wood practical, you have a very real opportunity to influence this process by participating.  Time is short:  the consultation period ends January 1, 2023.  Use THIS LINK to access the Consultation Forum.  If you aren't sure what to say, you can read MIXEDWOOD'S COMMENTS.
Later in 2023, decisions will be made about revising both the US National Risk Assessment and the FSC Controlled Wood Standard (FSC-STD-40-005 v3-1). Both are scheduled for revision in 2023, but processes have not yet begun.  In theory, both should be revised before the end of the year, with new versions going into effect in 2024.  Our experience suggests that this is very unlikely, but the process bears watching closely.
How to participate?
It's easy.  Just click THIS LINK.  It will take you to the FSC Consultation Platform.  If you have a profile set up, just login as usual.  If not, set up profile in the usual way.  Anyone can do this.
Once you have accessed the FSC-PRO-60-002a Consultation page, you will see a list of Supporting Documents.  We recommend that you focus on one:  "FSC-PRO-60-002a V2-0 D10 EN 2002-10-14".  Download and open on your desktop to follow along as you go.
When you have the Procedure open, click PARTICIPATE NOW.  You will see a two-column format, with text from the Procedure on the left, and a series of questions on the right.  The questions are self-explanatory, but there are A LOT of them.  You do not have to read or answer all the questions unless you want to.  If you want, you can see MixedWood's response to the entire questionnaire HERE.  Feel free to borrow from our work if you wish.  Or just tell FSC that you agree or disagree.  You can also skip over parts that don't concern you and simply provide general feedback in any field that you choose.
One way or another, please tell FSC what you think.  Someone will read everything and pay attention to your feedback.  And because they usually receive very little participation in these things, your inputs will be significant.
Here is a copy of MixedWood's inputs to the FSC Consultation:
MixedWood LLC feedback - FSC-PRO-60-002a 12.2022