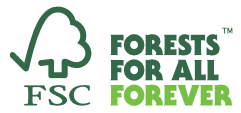 The US affiliate of the Forest Stewardship Council (FSC-US) recently released a discussion draft of a very important National Risk Assessment (US-NRA).  We consider this a very important document – the result of over 5 years of work – and likely to have a significant influence on certified wood markets throughout North America and indeed the world.
As is their practice, FSC-US has posted the US-NRA publicly and is inviting comment from all interested stakeholders.  This should include everyone who buys, sells, and trades wood and paper products in the US and Canada.  FSC needs to hear from us.  Please help spread the word.
[spacer height="20px"]
The User's Guide
The material that FSC-US is asking us to react to can be found on this webpage.  There is a lot of it:  7 documents and more than 250 pages of text.  But don't despair, we can help.  Start with the MixedWood article posted in this blog last month.  You will find links there to a User's Guide that we have prepared.  The User's Guide is only 10 pages in length and designed to give a quick and practical summary aimed specifically at the practitioner.  It tells you:
What We Found
What We Think
What You Should Do
We hope that you will find it helpful, and will share it with your colleagues and friends.

[spacer height="20px"]
The Bottom Line: Control Measures
At the end of the day, all practitioners understand it isn't risks that are important, but the extra work needed to conform to the FSC requirements.  In this case, we are talking about required mitigation steps for areas of "specified risk".  FSC calls these mitigation actions "Control Measures (CMs)".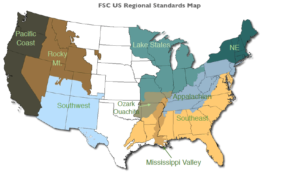 It's worth emphasizing that CM's won't apply to everyone.   They largely exempt the Northeast, Lake States, and Southwest regions (Where?).  In the rest of the country (the West, Southeast, and Appalachians) it might be possible for some companies to limit their involvement.  But we think most will not, and that CM's will apply broadly across these regions.
FSC-US have taken an innovative and progressive approach to the Control Measures proposed in the US-NRA draft.  The CMs emphasize collective, community actions rather than actions taken by individual companies.  This is a welcome change from FSC's typical prescriptive style.  We fear, however, that the details may prove rather challenging.  Unlike other FSC standards, the actual language includes a curious mixture of requirements for FSC-US and certified companies.
At first glance, however, the expectations are pretty simple:
Distribute "educational information" to your suppliers. The material will be provided by FSC-US, but hasn't been produced yet, but will include mandatory (& rather silly) "statements" about unacceptable materials.
Attend (or follow) Regional Meetings that will be hosted by FSC-US. Attendance is encouaraged, but not required.  The meetings are planned to include 'learning sessions', 'information sharing', and 'collaborative dialogues' to identify a 'focused set of actions'.
Implement one or more of the 'focused set of actions'. What will this include?  Nobody knows.
We summarized the proposed Control Measures (CMs) in the MixedWood User's Guide.  The last 2 page lays them out using a Where & What? format.  You can download it separately here.
[spacer height="20px"]
Lots of Questions
Generally speaking the proposed Control Measures don't look too bad.  You simply distribute some brochures, attend (or follow) a few meetings, and implement the action steps identified by the meetings.  An awful lot has been left to chance, though, and a little bit of thought raises a whole lot of unanswered questions:
Who produces, edits, and approves the 'educational information'.
Can a company substitute their own version? If so, who approves it, & against what criteria?
Will FSC-US staff control content? If not, who?
What happens before the 1st Regional Meeting? Will each company have to invent their own actions?
Who sets agenda and schedule for Regional Meetings?
How do Regional Meetings governed and reach decisions? Consensus, majority rule, etc.?  Can stakeholders vote by proxy?  Do FSC members have greater weight than non-members?  Who decides if objectives are met?
If the Regional Meeting fails to reach acceptable conclusions, does the Contingency Plan (outlined in separate document) become normative?
When will implementation become mandatory? Will actions be one-time or recurring?  Will companies pick from a menu of choices?
Unfinished Business
We see a lot of good ideas in the innovative and progressive approach that FSC-US has taken to Control Measures in the US-NRA.  The problem is that the work is still unfinished.  After 5 years of struggling to find consensus, we are being asked to approve a program which says that we will solve all our difficult problems in a "collaborative dialogue" later this year.
Really?
Tell FSC What You Think
It is very important that FSC-US staff get feedback from the people who bear the burden of putting this project into action.  The US-NRA webpage includes a Comment Form with a series of response questions.
Not sure what to say?  Take a look at MixedWood's response.  Feel free to copy, share, adapt, disagree, or borrow as you like.
Remember the old saying:  "The world is run by those who show up".  Let's make sure we show up.