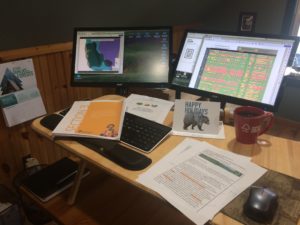 It is both traditional and healthy to take advantage of this quiet time of the year to do a bit of reflection.   2018 was an active and interesting year for us and also for many of our clients.  We can say the same for the programs we follow so closely.  FSC and SFI continue to grow and thrive – sometimes in spite of their best efforts at self-destruction.  We'll have more to say soon on that subject.  For now, however, we would like to share a handful of general observations and reflections; make a few timid predictions for the coming year; and offer some promises of our own for the coming months.
Changes at MixedWood
2018 was a banner year for MixedWood LLC for several reasons.  First of all, we marked – in August – the 10th anniversary of our firm's founding.  This anniversary may mean little to anyone else, but it's a big deal for our tiny little company.  It was more than three years later that we made our first attempt at web-publishing. The MixedWood Blog made its tentative start with a short, random post in January 2012.  Just a couple of paragraphs and a link to a CBC television piece. The rest, as they say, is history.
MixedWood remains a very small and independent consulting company, but we recently made some important and exciting changes that should shift our focus and style in the near future.  In addition to our long-standing and informal network connections, we now have a more formal partnership with another firm and some exciting joint ventures in the works.  All taking longer than we would wish, but still moving forward.  MixedWood itself is adding capacity at the local level, with the objective of improving our responsiveness to clients even as we invest in new projects.  Please stay tuned.  We'll be sharing more details soon.
FSC Controlled Wood:
 

the same old story…

Long-time readers of the MixedWood Blog will be amused to note that we began writing about the FSC Controlled Wood program in October 2012 – over 6 years ago!   These two short posts (HERE & HERE) are a bit hard to follow now because the embedded links have expired.  The instructive point is that FSC was deferring important decisions on this crucial program even then.  Today:  the story is much the same.  We will be writing in detail, very soon, about the ongoing trials and tribulations of FSC Controlled Wood.  For now, a very brief summary:
FSC achieved market relevance, and rapid growth, only after allowing (relatively) free mixing of certified and non-certified wood in commodity manufacture.
Minimum standards for "acceptable" inputs were written without any consensus or common understanding of what they should mean.
Practical application devolved to a joke.
Efforts to "reform" the program remain stalled for lack of consensus or common understanding about objectives.
SFI Program:
 

keeping its head down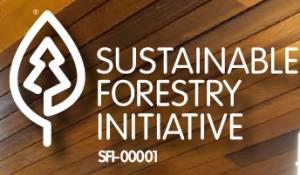 It is significant that SFI last featured prominently in the MixedWood Blog during the fall of 2014.  This was when the latest update to their key standard documents was being finalized and finally released.  The SFIS 2015-2019 edition will be exactly 4 years old on the 1st of January.  And since it is a 5-year standard, it should – theoretically – be due for review, revision, and update in the coming year.  We've been told, however, that this will not happen.  There are no plans to update until well after its nominal expiration date of 2019.  
Instead of updating its core standards, the SFI Program staff have been focusing their energy on self-promotion and expansion through "module" development.  This is a slightly sneaky and not-very-transparent mechanism that allows them to, effectively, write new standard language without bothering with cumbersome public-consultations processes.  MixedWood has had some minor involvement in some of this, but we can't share it here because our involvement is in direct service to specific clients.  See the problem?  
Here are a few examples of new, SFI certification programs (HERE & HERE) that are seeing the light of day this year.  We intend to explore them further in the coming months.  Please let us know if you have interest or information to share.
Still Relevant
One of the regular questions that MixedWood staff gets – from clients, colleagues, & friends – is what we call "the relevance question".  Put simply:  "Is FSC (or SFI, PEFC, etc.) still relevant today?"  The answer is always the same:  Yes!
How do we know?  The short answer is because the phone keeps ringing.  Every time we get caught up, and think we can finally devote some serious time to that project that keeps getting put off, a new call comes in.  A new client, with a new and interesting problem to solve.  Another challenge and off we go again.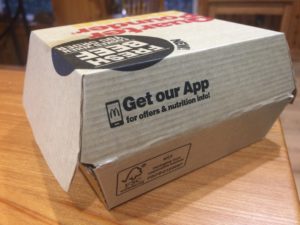 How else do we know?  We see evidence everywhere we look.  Here's just one example.  While he doesn't make a habit of it, this writer occasionally indulges in a good ol' greasy American hamburger; sometimes bought by the roadside under a familiar red & yellow sign.  Sound familiar?  Not too many years ago, those burgers would be served in a single-use box made of polystyrene.  Remember those?  More recently, we've been getting a little brown box of corrugated paper, and beginning this summer, that brown, corrugated burger box is sporting an FSC Mix label.
We don't know how many burger boxes MacDonald's buys in a year, but we know it's a heck of a lot.  A very relevant number!
Stay Tuned
The MixedWood staff are, as always, very grateful for the many folks who follow this blog and (especially) contribute to the content and the discussion.  Please stay in touch and stay engaged.  2019 promises to be an(other) interesting year!