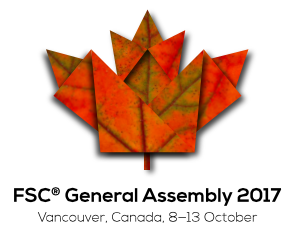 Regular readers of this blog may have wondered where we have been for the last several months.  The answer, of course, is complicated.  But one good excuse has been a very busy season for FSC Controlled Wood consulting.  If you are among the folks still struggling with this process, please click here to see our last post on the subject.
We hope to make up for lost time during the coming week.  MixedWood is attending the FSC General Assembly (GA) this week.  The "GA", as it is known, is FSC's primary governing meeting.  Held every third year, this gathering of the membership is where many of the key policy discussions and governance decisions are made for the organization.  MixedWood is an organizational member of the FSC and will be taking part in the deliberations over the next 6 days.  We will also be posting daily with observations, comments, and perspectives on what is going on.  We hope you will find it interesting.
For those who may be following the proceedings more closely, we recommend the website set up specifically for the event.  FSC staff are working hard to communicate all the details and keep everything updated.  You can find everything here.  Social media will be active as well.  The MixedWood twitter feed will be active all week and we hope it may help stimulate and inspire some engaged discussion.  Please join in!
More to come soon.  Stay tuned.