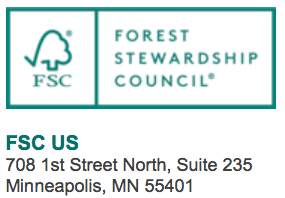 Our post from just before the New Year shared some important information updates on the status of the Forest Stewardship Council (FSC) Controlled Wood program in the US.  Our intent, of course, was simply to share and summarize the latest information available on this important topic.
One of the hazards of sharing up-to-date information in a timely way is that things like this have a tendency to change.  And that's just what happened here.  We got a friendly note from FSC-US staff on yesterday afternoon letting us know that additional new guidance had come from the FSC Policy and Standards Unit in Bonn:
We received confirmation from FSC International's Performance and Standards Unit (PSU) that, "Certificate holders have 6 months from the date of approval of the NRA to update their DDS. So, even if the 6 months period extends beyond June 30, 2019 also, certificate holders can still continue to use the company risk assessments till that transition period is over."
We have corrected and updated the details in our Dec. 29 2019 blogpost.
Good News or Bad?
We are honestly not certain.  On one hand, flexibility is usually a good thing.  This might make the eventual transition to the approved NRA a bit easier for some companies.  On the other hand, everyone we talk to is sick and tired of this process and more than ready to get it done.
One thing is certain:  we aren't done yet.  Stay tuned.