When it became clear, over 6 years ago, that the "old way" of Controlled Wood due diligence for FSC-certified companies would be ending, we all understood that the "new way" would include some new challenges.  With the Forest Stewardship Council (FSC), nothing is ever easy.  Over the years, when clients and stakeholders asked us what the new challenges would be, our advice was simply to wait and see.  We knew that sooner or later it would become clear.
As is often the case, sooner turned into later.  Much later.  But it finally came and the new work of the FSC Controlled Wood version 3.1 update (approved back in 2015) became real work in the summer of 2019.
Two National Risk Assessments
Most of the delays of the last six years were related to the drafting, publishing, and approval of the FSC National Risk Assessments (NRA) for the US and Canada.  Both were finalized and released in 2019.  The US version (covering the lower 48 states) on April 5, and the Canadian version on June 26.  We provided a summary of the US-NRA shortly after its release.  At the time, we intended to do a similar profile for the Canada-NRA, but time and resources did not allow.  Both documents remain very important to the FSC program in North America and we expect that they will remain in place for many years to come.  For this reason, they are recommended reading for everyone with significant engagement in the program.  If you are reading this, that probably means you.  Both FSC-US and FSC-Canada maintain a dedicated webpage for their respective NRA's.  We have them bookmarked and you should as well.
Control Measures – where the action is
Our April post included this sub-heading.  We re-use it here because it remains very important.  MixedWood has always been about practical approaches to certification.  And a practical approach means understanding where the work it.  For Controlled Wood, the work is found in FSC's approach to mitigation – termed "Control Measures" in the standard.  We'd like to tell you that FSC provides us with a simple and straightforward list of the required Control Measures, but (of course) that isn't that easy.  To understand Control Measures, we need to take a step back and take a look at what they are intended to mitigate or "control".
Specified Risk – where the Control Measures are
The bulk of the National Risk Assessments (NRA) are devoted to assessing and rating a long and exhaustive list of risks to forest sustainability.  Most of the risks are considered "Low" and don't require any further action.  The ones identified by FSC as not low are termed "specified".  We summarize the FSC-US specified risk into a few categories:
Sensitive Habitats – the places where rare and fragile natural communities may be at risk.
RTE species – a shortlist of notable Rare, Threatened, or Endangered species
Urban Sprawl – where development pressure is replacing native forests
Federal Old Growth – where the US government is managing ancient forest stands
The US-NRA summarizes them in this table: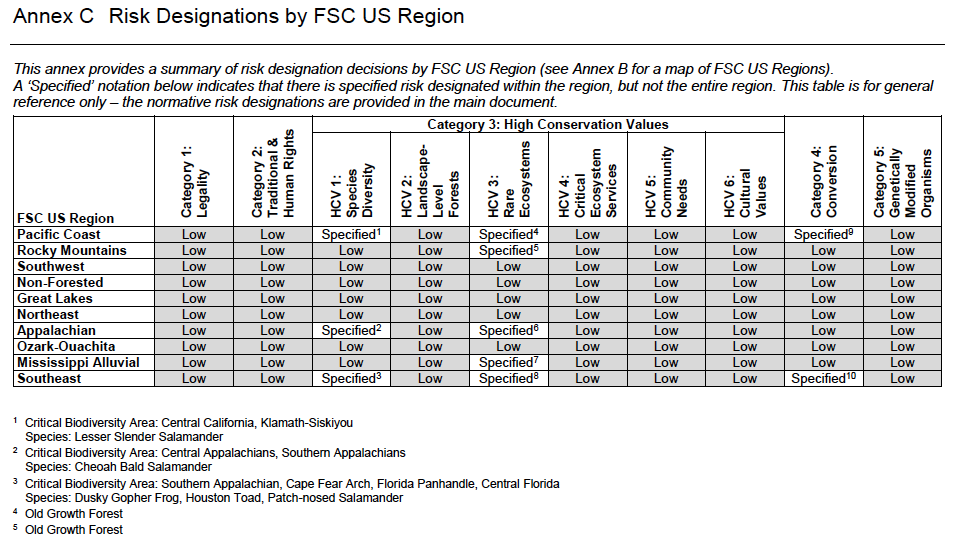 We need to look closely at these Specified Risk topics because they are the subjects of the additional requirements that are contained in the NRA's – the Control Measures (CM).  From the US-NRA, we can make a list of 17 Specified Risk categories, and summarize them in this table:
A quick look at both tables (ours and the US-NRA one above) tells us several useful things.  In the first place, most of FSC-US's specified risk categories are found in the Southeastern part of the country.  Quite a few are found in the Appalachian Mountains, and the rest are found out west.  That means that if your business sources wood in the Northeast or the Lake States (but not in Canada), you have a lot less work to do.  You might be tempted to stop reading here, but we hope you won't.
Another less obvious, but very important feature of the FSC-US Specified Risk list is its diversity.  It is NOT a list of similar things, as we can see by looking at a couple of examples.  On the left is a fact sheet for Mesophytic Cove Sites, on the right is a similar fact sheet for the Dusky Gopher Frog (click on the image for a closer look).
Mesophytic Coves are a type of natural community associated with mid-slope positions in rich soils.  They are wide-spread and common, as well as being exceptionally rich in biological diversity – and threatened by a long list of land-use conflicts, including commercial logging.  For any company procuring hardwood logs from anywhere in the Appalachian region, Mesophytic Coves cannot be avoided and mitigation measures will be inevitable, constant, and ongoing.
The Dusky Gopher Frog, on the other hand, is a single, endangered species that are dependent on specific and narrow habitat conditions found in portions of coastal, southeast Mississippi.  For the vast majority of wood-sourcing companies (buying wood from other places), the Dusky Gopher Frog habitat will be of no concern at all.  For those who do procure from SE MS, mitigation strategies will be quite specific and focused.
We could pick other examples, of course, and make other comparisons.  The point we are trying to make is that FSC's shortlist of Specified Risk subjects is very diverse.  We might expect the Control Measure requirements to be different as well, but that's not the case either.
One size fits all
FSC-US staff – to their credit – recognized that it would be impossible to define and specify actual, meaningful mitigation measures to address even a limited list of 17 specified risk categories.  So, they called a meeting.  The US-NRA specifies a series of three Controlled Wood Regional Meetings, that were held in the summer of 2018.  It was mandatory for CW-certified companies to either participate in these meetings or review the output reports.
In theory, the Controlled Wood Regional meetings were designed to "…result in the identification of a focused set of actions for each specified risk issue…"  We think it is worth pausing at this point.  Did anyone think that a group of strangers would – in the space of a day – design effective and efficient risk mitigation strategies for Native Longleaf Pine, the Patch-nosed Salamander, Late Successional Bottomland Hardwoods, and 6 other specified risk subjects identified for the US Southeast?  We don't think so, and the meeting results bear this out.  The reports, which can be found online here, indicate discussions that were wide-ranging and productive; but conclusions that fell far short of a "focused set of actions".  In the end, it fell to FSC staff to fill in the gaps.
The results of this odd process can be found in the online reports of the three Controlled Wood Regional Meetings.  For each region, FSC-US staff produced a report which includes a section entitled Regional Meeting Outcomes: Specified Risk Topics & Final Mitigation Options.   Each of the 17 specified risk subjects is addressed individually, but the details of the Mitigation Options overlap extensively.  MixedWood staff broke down and charted the options and found that they can be reduced to this simpler summary:
Mitigation for all organizations:
Education & Outreach using Communication Materials – a nearly universal option likely to be widely used
Engage in and Support Conservation, & Planning Initiatives – an option that (oddly) applies to all but one of the 17 categories
Engage in and Promote Public Land Planning & Conservation Collaboratives
Mitigation for "high impact" organizations
Engage in, Support, and Use Research and Mapping
Mitigation for Primary Procurement organizations
Procurement Policy – a simple option already in wide use
Education, Outreach, and rapid implementation
Whether you comb carefully through the FSC documents, as we have, or simply scan our summary above, it seems clear that the primary mechanism for Controlled Wood mitigation will be some kind of Education and Outreach program.  Whether this approach will prove sufficient on its own remains to be seen.
When we saw the first signs of this format emerge last summer, many folks (including MixedWood) assumed that FSC-US would be leading an initiative to organize the community effort at Control Measure design.  It was decided, however, that this wasn't practical for the existing staff and there wasn't the support to develop the considerable in-house capacity.  This may have been a wise choice, but it left 300+ CW companies in a rather awkward situation.  The six-month implementation interval passed rather quickly as everyone scrambled to put something credible together ahead of the October 5 deadline.
MixedWood has – of course – been deeply engaged in this process.  We have recruited a group of clients into what we informally call our "Controlled Wood club".  We have a package of protocols, guidance, documents, and materials designed to ensure that everyone has a credible package to show during their next audit.  We are expecting feedback, questions, and challenges from the Certification Bodies (CB's), and we expect to use this to guide our adaptation over the next year or two.  Members of our club have been warned to expect a process, not a solution.  This thing is very much a moving target.
We are aware of a handful of other consulting firms taking similar approaches and have collaborative relationships with a couple.  If you have been working on this, and are interested in a bit collaborative benchmarking, please give us a call.
Shameless Imitation
We have been hinting, for most of the past year, about writing a comparison between the new FSC Controlled Wood program and the long-standing, and under-appreciated Fiber Sourcing program of the Sustainable Forestry Initiative (SFI).  That detailed analysis will have to wait a bit longer, but we can't leave this topic without offering a few observations.
As we have watched Controlled Wood companies adapt to and implement the US-NRA, it has become clear that the folks who will have the least difficulty will be the ones who are already SFI-certified.  Primary Procurement companies (those who source roundwood & chips from the forest) are required by SFI to be certified to their Fiber Sourcing standard (SFIS Section 3).  One of the key requirements of SFI certification is the participation and support of regional, collaborative outreach and education programs aimed at promoting and supporting sustainable forestry.  Sound familiar?  SFI does not provide a detailed list of 17 "specified risk" subjects, but they do require attention to a specific set of conservation topics that include (among others): species at risk, riparian protection, biodiversity, and logger training.  The overlap between this program and the US-NRA Control Measures is immediate and obvious, making Controlled Wood adaptation for SFI-certified companies very simple indeed.
Upcoming Challenges
Most of what we wrote about here applies to the implementation of the US-NRA.  With our initial approach to US Control Measures in place, many of us are now busily trying to figure out how to solve similar problems for our clients who procure wood in Canada.  It would have been convenient if the folks at FSC-Canada had consulted with their American colleagues when they worked on the Canada-NRA.  It appears, however, that they did not, and the NRA for Canada is very, very different than the one for the US.  This may be a minor issue for the large-scale operations of the great boreal forests to the north, but it poses some vexing challenges for those of us who procure from border regions.  We wrote about the radical differences in applying FSC due diligence on opposites sides of the St. John River last year.  Now our fears have come to pass, and we will be finalizing our arrangements in the next month or so.
As with any new implementation, we expect a period of calibration and adaptation.  The vaguely worded requirements of the US & Canadian NRAs promise to make this an entertaining process that may extend through the next year or more.  To date, MixedWood clients have exposed our approach to Control Measures to only 2 CB's, who have provided some initial feedback.  We expect quite a lot more in the coming months.  We hope that everyone will exercise restraint and patience with this process.
If it were easy…
A colleague shared a story with us recently about two FSC professionals who were complaining to each other about the unnecessary complexity and confusion of the Controlled Wood update.  After a bit of healthy venting, the older of the two paused, smiled, and said, "Hey, if it were easy, anybody could do it!".  Wise words, we think.
Please stay in touch!