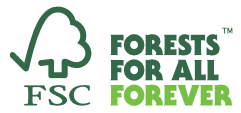 This brief post is to update – one last time, we hope – the story we shared in September and October about FSC's ill-considered policy decision about species documentation for Chain of Custody (CoC) companies.  Click here to read our original post on the subject.  Click here to read a much deeper and more detailed analysis by Ulf Sonntag, our colleague from Germany.
The Forest Stewardship Council has a long and storied history of events like this.  A well-intentioned "improvement" is proposed by a small group of staff in Bonn, who commonly fail to understand or appreciate its probable consequences.  Certified companies discover the new requirement after it is published, and consternation ensues!  Sometimes an article from a popular CoC blog is written.  Eventually, the complications that should have been considered beforehand become apparent to the well-intentioned staff.  They reconsider and begin again.
We are pleased to say that the ADVICE-19 story appears to have come to a happy conclusion.  Yesterday FSC circulated this email:
FSC ADVICE-19 withdrawal

We find the explanation a bit odd.  ADVICE-19 had many flaws, but to describe it as "not comprehensive enough" is a bit of a stretch.  Or perhaps simply tone-deaf.  The immediate result, however, is positive.  We hope that the new "task force" takes a lesson from this story and does a bit more asking and listening next time.
UPDATE (15 Dec 2020):  FSC has this update posted on their website:  https://fsc.org/en/newsfeed/advice-note-on-species-information-withdrawn