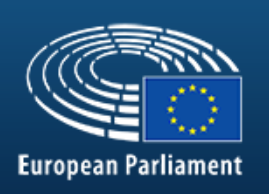 When we wrote our article last summer about Due Diligence Systems (DDS), it seemed as if the situation for wood product DDS had begun to settle down.  That was less than a year ago, but it is already clear that we were wrong.
In the past, it has typically been program changes from the FSC or PEFC that confuse and complicate things.  In this case, however, it is the European Union (EU) government that threatens to disrupt global markets for wood products.  Late last year an agreement was reached to enact a new and updated version of the older EU Timber Regulation (EUTR) and replace it with an enhanced version called the EU Deforestation Regulation, abbreviated EUDR.  To date this important new regulation has received little attention, especially here in the US.  We think that will change soon.  This looks like a big deal.
Based on Established DDS Principles
The good news is that the EUDR is based on established principals of supply chain Due Diligence that we have become accustomed to over many years.  We outlined these principals in our article from last July and summarized the 3-step process used by our principal certification programs (SFI, PEFC, FSC):
Information Gathering – to understand your supply chain well enough to draw reasonable conclusions about the products or materials your company buys.
Risk Assessment – to evaluate and assess the ethical and legal standards of your supply chain and determine the risk of violating those principals in your procurement.
Mitigation – to take actions designed to compensate for unacceptable risks to environmental and social values identified by your Risk Assessment.
The bad news is that, although the EU regulators followed the familiar 3-step DDS format, it is clear that they did not understand it properly.  For reasons we do not understand, they focused on enhancing the first step – Information Gathering – enhancing and distorting it beyond reason.  In effect, the EUDR seems likely to make the easy part of DDS much, much harder.
Information Gathering under the new EUDR
Under the old EUTR, as well as the DDS programs of PEFC, FSC, and SFI, Information Gathering is required to provide basic data that is sufficient to support a reasonable, risk-based conclusion about ethical and social standards as they apply to the supply chain being assessed.  In practice, this always required the disclosure of two key items:
Tree Species
Origin
While identifying Tree Species can sometimes be confusing, it has never been controversial.  Origin is more complex.  At a minimum, it has always been understood to include the country where the trees were grown and harvested.  In most cases, it also extends further into subnational regions where environmental risk factors might vary.  The level of detail varies somewhat but is always be related to the needs of Step 2 – the Risk Assessment.  A good example of this are the regional Specified Risk topics cited by the FSC US National Risk Assessment.
The new EUDR takes a very different approach.  Information Gathering is detailed in Article 9 (edited a bit for clarity), which looks like this.  Pay particular attention to subclause (d) (bolded for emphasis).
"1.  Operators shall collect…the following information…
a description…of the relevant product (including) the common name of the species and their full scientific name…
the quantity of the relevant products…
the country of production and, where relevant, parts thereof;
the geolocation of all plots of land where relevant commodities that the relevant product contains… has been produced, as well as the date or time range of production; where the… product contains…commodities produced on different plots of land, the geolocation of all different plots of land shall be included…"
If you are wondering (as we were) what is meant by "plots of land", it is defined (Article 1 (27)) in the regulation this way:
"plot of land means land within a single real-estate property, as defined by the law of the country of production…"
The use of "geolocation" and "plots of land" changes the entire approach to DDS Information Gathering.  Instead of making regionally relevant decisions about the risks to recognized principles of environmental ethics, the EU regulators are trying to create a system of radical traceability on a global scale.  We think this is a deeply flawed idea.
What Will EUDR Implementation Look Like?
The best answer to this question today is that no one knows.
In theory, the EUDR text is fairly straightforward.  Companies who are importing wood-based products into the European Union, as of 2024, will be expected to acquire and maintain databases of records which identify the locations and dates where trees were harvested and processed into the raw material commodities used in the manufacture of their products.  In this era of digital information systems and 'big data', we can see why some folks might imagine this to be simply a matter of basic record keeping.  Is this new regulation just a slightly annoying new record-keeping requirement?
In a word: no.  It takes only a moment to realize that this new "Information Gathering" requirement is radically extreme and probably impossible to implement in a meaningful way.  To explain why, we've taken a brief a look at a simple example of the global supply chain in action:  one example of DDS traceability in real life.
The Story of a Jam Label
This jar of strawberry jam was purchased in a supermarket not far from the MixedWood office in the United States.  The jam is very tasty, but that doesn't concern us here.  It is packaged in a glass jar, sealed with a steel, vacuum-sealed lid, and has a paper label.  Let's ignore the jam, the jar, and the lid: and apply some Due Diligence to that paper label.
The jam manufacturer, Bonne Maman, is based in France.  They are a food company and don't print their own labels.  They purchase them from a large, commercial printer, who we'll call Imprimerie Martin – also located in France.   A large customer like Bonne Maman will require a lot of labels, produced on a high production, web offset pressroom like this one.

This sort of printer handles many grades of paper and relies on the services of a specialty distributor to supply them with what they need, when they need it.  Labels are printed on lightweight, high-strength paper called "C1S", because it has a glossing coating on one side.
We will call Martin's paper distributor Eurosupply Ltd.   They are located near the port city of Rotterdam, a major logistics hub for all Western Europe.  They manage the movement and supply of paper and other industrial commodities to a variety of manufacturing industries.  This sort of business routinely handles a wide variety of commodity grades of paper which are produced and traded all over the world.  Eurosupply sources its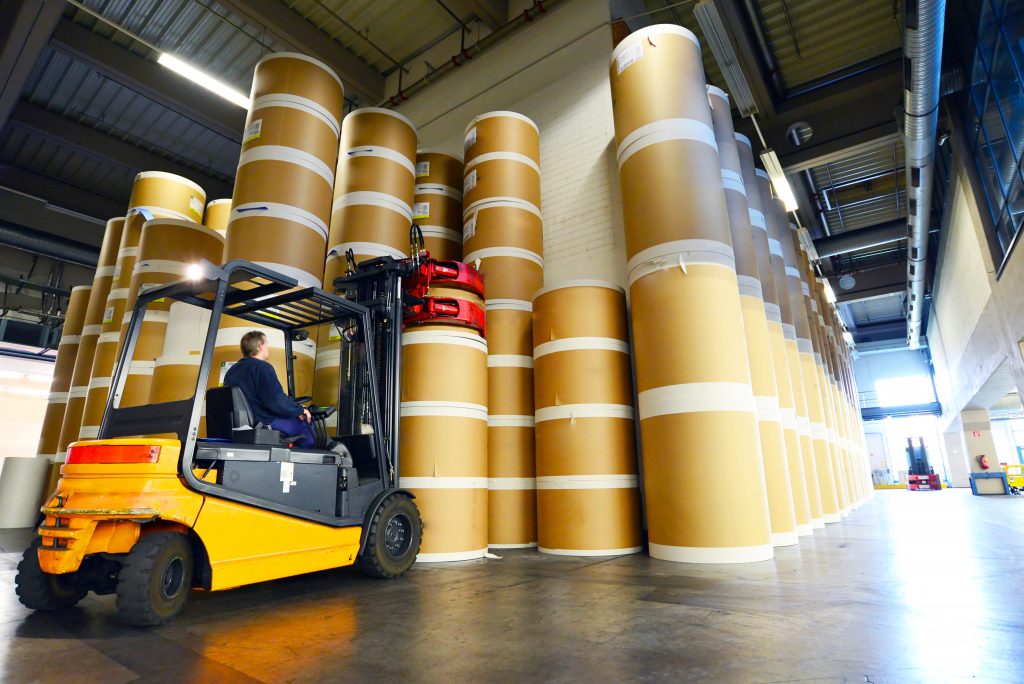 products from a network of suppliers spread across Europe, North & South America, and Asia.  TheC1S required for Bonne Maman jar labels could have been made in any of these places, but we're going to assume it was made in the United States.  Eurosupply purchased it from another distributor called UniFiber, Inc., whose sales office is located in Atlanta, Georgia.
UniFiber, Inc. is a large, US-based corporation known as a merchant wholesaler.  They purchase commodity grades of printing and packaging papers, in both roll and sheet form, and distribute them to users (printers, packaging manufacturers, etc.) and other distributors.  Their operations include a network of Distribution Centers (DC's) located all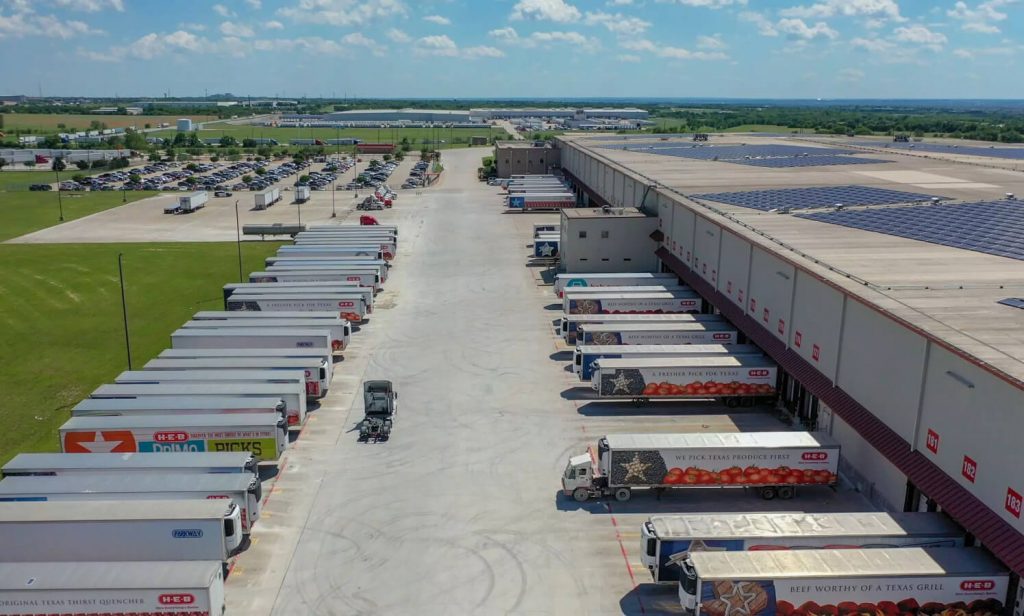 over North America.  The DC's have links to rail, truck, and ocean freight networks designed to quickly move commodities where they need to go.  One of Unifiber's largest DC's is located in Cranbury, New Jersey.  With access to the Port of New York, it functions as a major regional logistics hub; with rail and truck networks serving the US Northeast.  Huge quantities of common commodities, like our C1S printing stock, pass through here every day.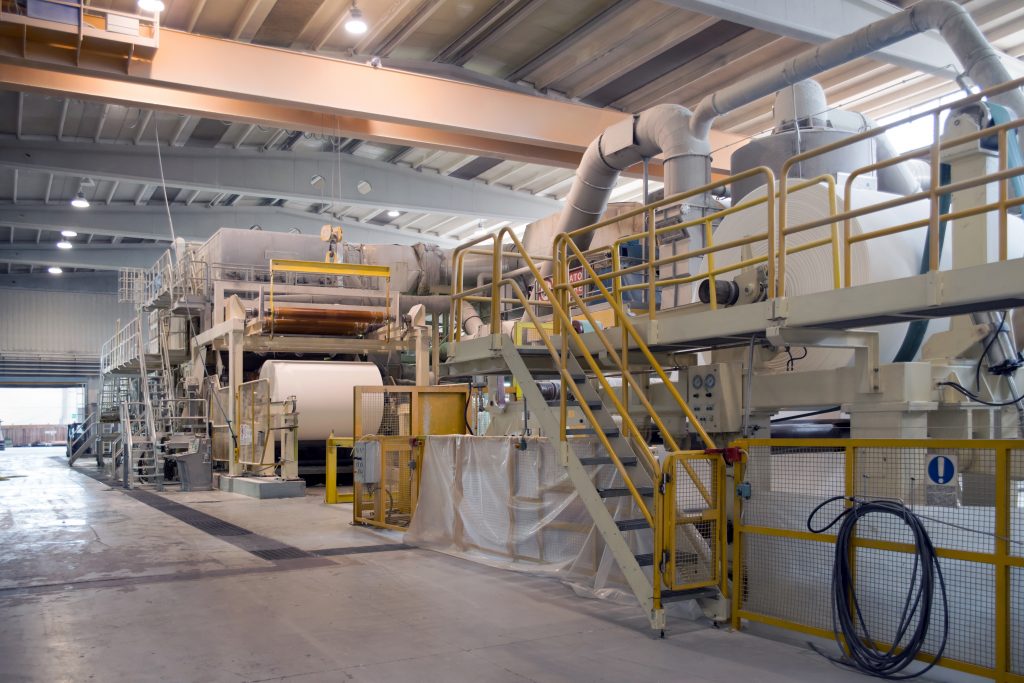 So where does UniFiber get its C1S?  They purchase it regularly from a network of paper manufacturers, including one owned by the Warrenbrook Corporation, located on the Kennebec River is Maine – about a day's drive north of New Jersey.  Rail cars provide daily service between the facilities.  The Warrenbrook Kennebec plant is an integrated mill, which means that it has a pulp mill on site.  Paper is made from pulp, and pulp is made from wood.  Wood – of course – comes from trees, and trees grow in forests.  This means that our Due Diligence trail is finally getting close to its source.
Warrenbrook Corporation purchases much of their pulpwood as semi-processed residual chips.  For this they rely on a network of sawmills who purchase logs, process them into lumber, and sell 'co-products' – in the form of wood chips – to pulp mills like Warrenbrook.  One of these sawmills is owned and operated by Stratford Lumber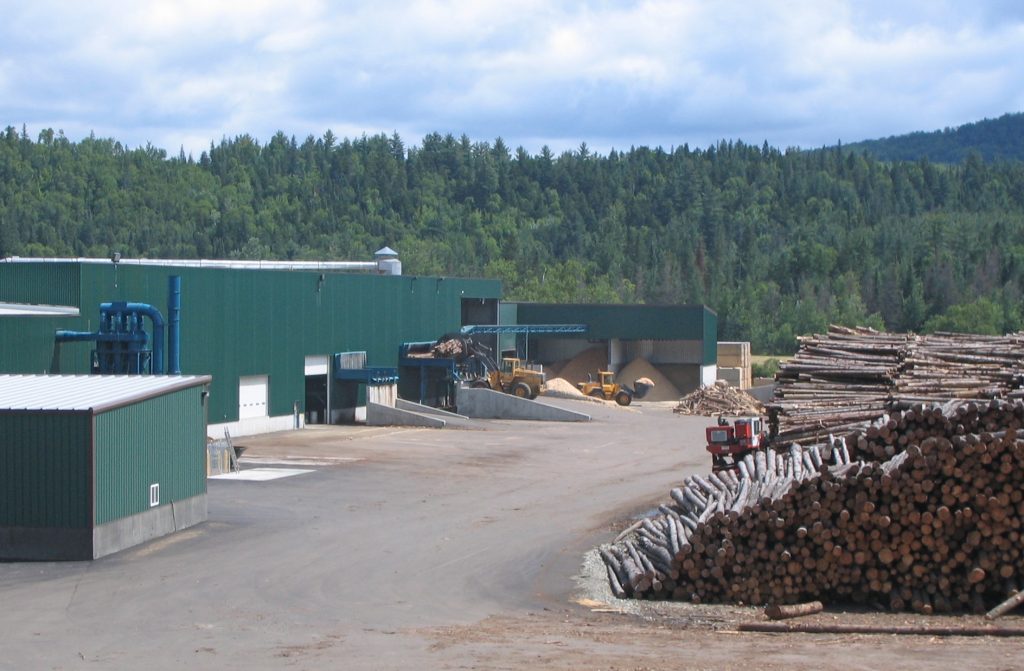 Company, located in a beautiful mountain valley not far from the Quebec border.  Stratford Lumber buys spruce and fir logs from the local area and manufactures dimension lumber for the construction industry.  An important and valuable byproduct of their lumber production is wood chips which they sell to Warrenbrook for use in their pulp mill.
Stratford Lumber uses native red spruce (Picea rubens) and balsam fir (Abies balsamea) sawlogs which are purchased from loggers and landowners in the mountain region surrounding their mill.   These trees are common to the area and have been grown, harvested, and naturally regenerated for more than 150 years.  These commercial timberlands are – for the most part – privately owned and managed.  Sometimes by private individuals and families, and sometimes by large corporate land investors.  One example of a large investor-owned property lies just a few miles from the MixedWood office:  a 4000 ha. 'plot of land' where a timber harvest was completed earlier this year.
This forest property is located in the township of Rangeley Plantation in Franklin County, Maine.  Because it is certified by both SFI and FSC, we can share a number of other details about it here.  The property owner is listed as Bayroot LLC, and under the management of Wagner Forest Management LTD.  Like many large, forested properties the region, it has changed hands many times over the years, but remained in consistent, commercial timber production since the mid-19th century.  The harvest site pictured here was previously harvested in the mid-1980's and naturally regenerated.

"Operators & Traders"
Our DDS story illustrates a detailed and credible sourcing trail for a rather insignificant but very common wood-based product:  a jam label.  It traces our product from a kitchen cupboard all the way to a stump in a forest in Maine.  But what does this tell us about EUDR implementation?
When (if) the EUDR is implemented in 2024, the companies with specific responsibilities under the law – called 'operators' and 'traders' – will begin to be accountable to the specific requirements of the regulation.  Let's use our example to see what this will mean:
The Operators are the companies who are subject to EU law and will buy, sell, and take responsibility for the paper used to make the labels:
Eurosupply Ltd – as the importer of record, Eurosupply clearly has the first responsibility under EU law to conduct Due Diligence for imported wood products.
Imprimerie Martin – because they are a large company, and also trade in wood products by way of their commercial printed products, Imprimerie Martin will be considered a Trader, with the same DDS responsibilities as their suppliers.
Bonne Maman – although not primarily in the wood or paper business, they also seem to meet the definition of a Trader, with DDS responsibilities for their paper labels.
Information Gathering Responsibilities:
A quick glance at the EUDR Article 9, clause 1(d) tells us that Operators will have to collect and maintain 'the geolocation of all plots of land…" for the wood products they purchase.  That means the wooded mountainside forest in Franklin County, Maine.
But how will they get this information?  A chain of requests will need to be established to pass the information along.  A long, long chain of requests.
In our example, the chain will begin with Stratford Lumber, who – when they purchased their logs – were in a position to know that the logs were harvested from a specific plot of land in Franklin County, Maine. Along with all the other plots of land that they purchased logs from.
Stratford Lumber will provide this list of forest sites to Warrenbrook Corporation, as supporting documentation when they sell their wood chips.
Warrenbrook will have to assemble and maintain a list of sites from Stratford and all of its other wood suppliers and provide it to its paper customers when it sells paper to Unifiber.  And do the same for all of its other customers.
Unifiber will have to maintain a site list for each and every grade of paper, from each and every supplier, that it purchases for distribution to European clients and provide these lists, along with other export documentation, to Eurosupply when they fill orders for C1S and other grades of paper.
Eurosupply will supply the site lists it received from Unifiber and its other suppliers to Imprimerie Martin when they order C1S for use in Bonne Maman jar labels.  When the labels are printed and shipped to the jam factory, this long, long list of sites will have to be attached.
What Does This All Mean?
If everyone in this long chain of Due Diligence does their job correctly, the label buyers at the Bonne Maman jam factory in France will have documented proof that their jar labels contain fiber that was sourced from the balsam fir stump that we photographed on our walk in the woods this week.
Presented this way – as a simple example, we might think of this as just an amusing and harmless piece of information.  An interesting example of how markets and forest industry work in our globally interconnected economy.
But our example is just a single, isolated trail in an enormously complicated supply network.  European "operator" companies will not be collecting single source-tracing examples.  The EUDR requires assembling endlessly vast catalogs of source information like this.  Millions of sites, from thousands of suppliers, updated constantly and continuously until they become meaningless.
If all of this were free of charge, it would be just silly.  But, of course, it will not be free.
Why?
Let's conclude by reminding ourselves about what Due Diligence is for.  It is intended to provide information to allow risk-based assessments about environmental and social values in wood product supply chains.  When the risks exceed acceptable limits, mitigation is needed.  If mitigation is ineffective, the sources are unacceptable and need to be cut off.
Does a French jam company need a list of a million forests in order to assess whether they are sourcing unethical paper labels?  Obviously not.  The fact that we have to ask the question reveals the fatal flaw in the EUDR.