Controlled Wood Club
MixedWood LLC
Implementation Support for FSC Controlled Wood
FSC National Risk Assessment:
United States
The National Risk Assessment for the Conterminous United States (US-NRA) was formally published on April 5, 2019.  Its implementation became mandatory for CW companies later that year.  To date, implementation appears to be proceeding reasonably well, but significantly practical interpretation and adaptation were delayed by the COVID-19 pandemic.  We began getting feedback from the first round of audits late in 2020 and are beginning to adapt.
The US-NRA includes "Low Risk" conclusions for a wide array of the target subjects included in the FSC Controlled Wood standard.  This includes 3 of the 5 FSC Controlled Wood risk categories and large portions of the other 2.
Exceptions – and the areas where more work is necessary are defined geographically and topically in this way:

Categories 1, 2, & 5; addressing the topics of Legality, Traditional and Human Rights, and GMO's do not, for the time being, require any further attention is the US.  Additional focus is directed to Category 3: High Conservation Values, and Category 4: Forest Conversion.
FSC-US has further sub-divided the Risk Assessment conclusions geographically, using the regional territories used in its Forest Management standard, and depicted on this map (scroll down to see MixedWood's version):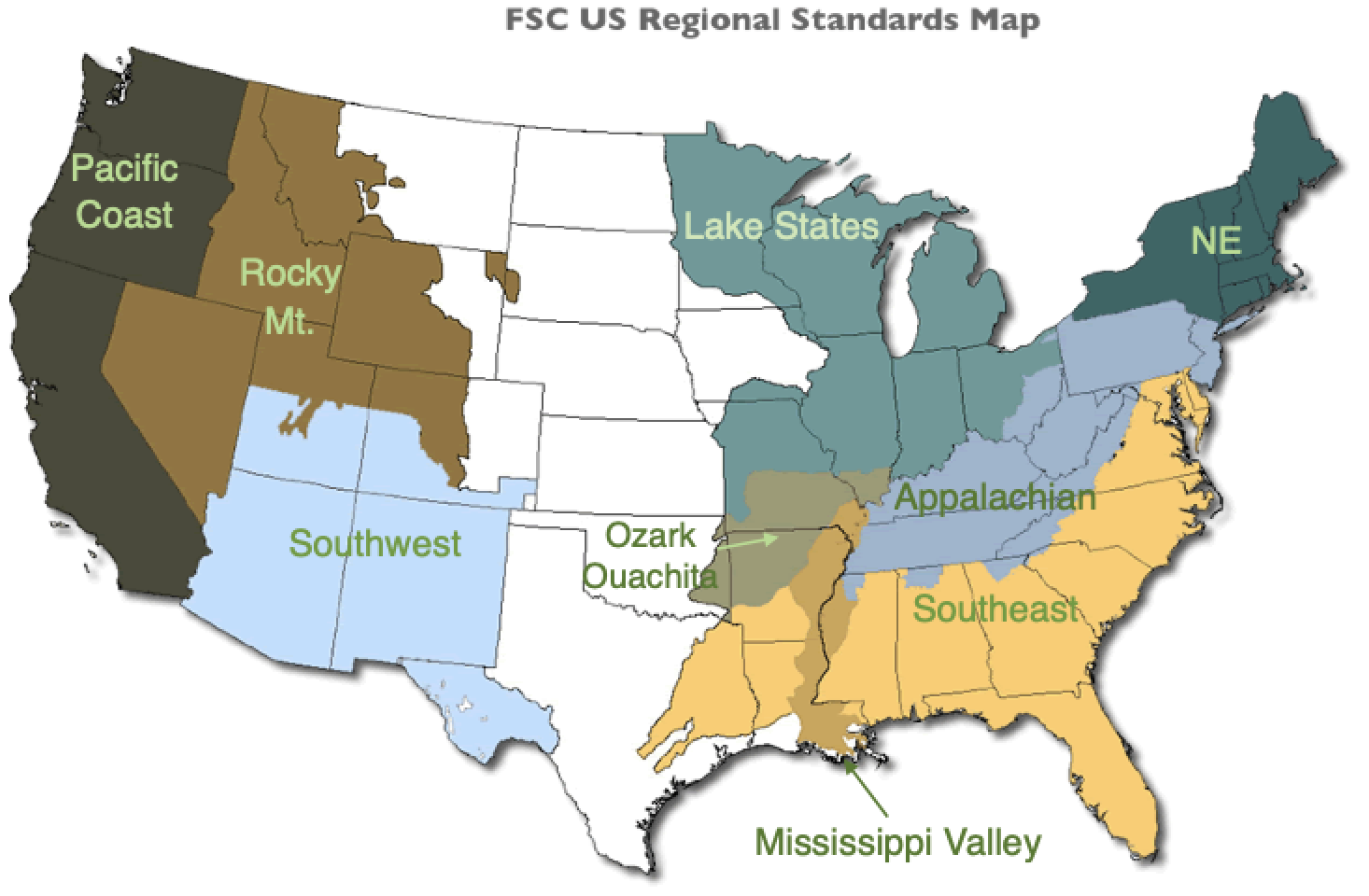 Companies who procure only in the Northeastern (NE), Southwest (SW), and Lake States regions have the advantage of a Low-Risk conclusion for all Controlled Wood risk indicators.  Mandatory Control Measures – for the time being – are not required.
For sourcing in other parts of the USA, additional attention is required.  FSC-US has identified "Specified Risk" for 17 topics, with overlapping geographic scope as summarized here:
FSC IMPLEMENTATION GUIDANCE & RESOURCES
NRA Guidance Documents
Provided by Forest Stewardship Council
CW NRA Guidance – Mitigation Options
Description: The following includes general descriptions of each Central Theme and the basic requirements associated with them. Each mitigation option within these Central Themes is customized for the individual specified risk topic and may have additional specificities or requirements. Please see the FSC US Controlled Wood Regional Meeting Reports (below in Regional Guidance) for the complete mitigation options, including all details and required components. The following guidance for implementation of mitigation options includes examples of mitigation activities that would be considered acceptable and/or not acceptable for the indicated level of required mitigation. These are examples only and are not comprehensive lists of acceptable and non-acceptable mitigation activities.
Note: FSC also has a "Resources for Mitigation" guide for each specified risk topic. These documents are available under each specified risk page or in our document library.
Download
US NRA Implementation Questions and Answers (updated April 20, 2020)
Description: The following questions and answers are intended to provide information for certificate holders that are incorporating the FSC US National Risk Assessment for the conterminous United States (excludes Alaska, Hawaii, and US Territories) into their DDS. This document is based on questions received by FSC US and Certification Bodies. It will be updated as new questions and information are received.
Download

Chain of Custody Evaluations Standard (FSC STD-20-11 V4-0)
Description: The objective of this standard is to provide the requirements to be followed by FSC-accredited certification bodies (CBs) when auditing CoC organizations against applicable requirements of the FSC normative framework and integrating the findings to come to a reliable certification decision. This standard thereby aims to reduce the level of subjectivity and increase the consistency between sampling levels implemented by different CBs across different situations. For certificate holders, this document can be useful to know what auditors are basing their evaluation on.
Download
Common Guidance for the Identification of High Conservation Values
Description: High Conservation Value (HCV) definitions were first set forth by the Forest Stewardship Council (FSC) in version 4.0 of its Principles and Criteria (P&C). The formalization of the six categories of the HCV approach and guidance for interpretation and application was elaborated in 2003 by Proforest, the producer of this document and partnering organization. This document provides guidance on the interpretation of the HCV definitions and their identification in practice, to achieve standardization in the use of the HCV approach. Its purpose is to help identify high conservation values across different ecosystems and land uses, and best practice considerations for HCV assessments.
Download
MixedWood Regional Guidance
An Adapted Approach for Controlled Wood Companies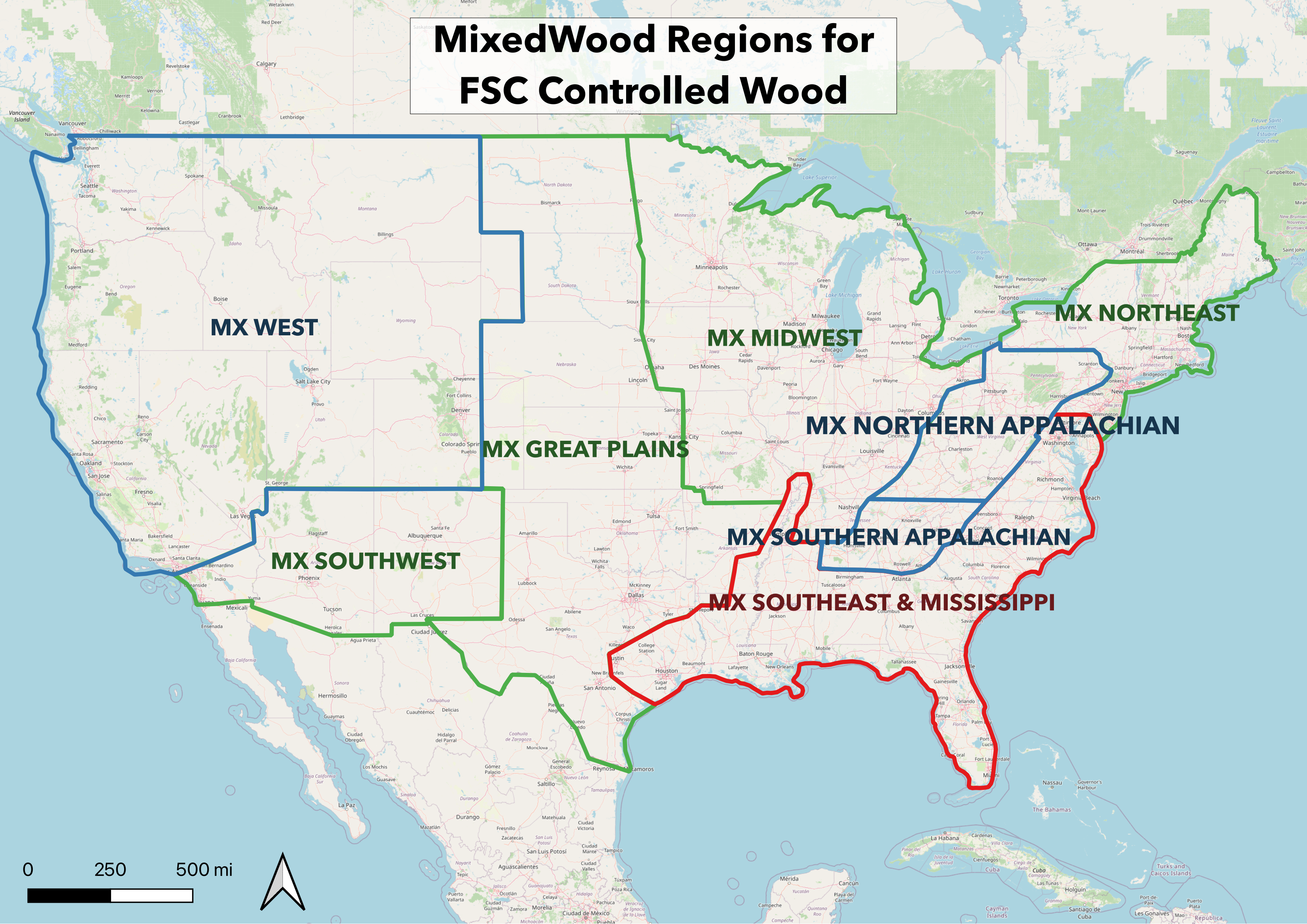 The regional outlines used by FSC-US have proven somewhat inconvenient in practice, with too many overlaps and other awkward features that complicate Controlled Wood implementation. MixedWood has solved this problem for you by providing an alternate regional breakdown shown above. We recommend using these regional breakdowns for designing and implementing your Due Diligence System (DDS).
Northern Appalachians
This region follows the line of the Appalachian Mountains from the New York-Pennsylvania border in the north to the northern border of North Carolina and Tennessee. It includes large portions of two important Specified Risk areas: Mesophytic Cove Sites and the Central Appalachian CBA. It conveniently excludes Conversion areas west of DC and the more complex area to the south.
Southern Appalachians
This region covers the southern portion of the Appalachian Mountains, from the Virginia-Kentucky border in the north to the metropolitan areas of Atlanta and Birmingham. It includes a complex array of six Specified Risk topics, including two endangered species rangers, two CBA's, and Conversion.
Southeast & Mississippi
This large region captures the entire coastal plain and foothills region from Maryland to Texas. It includes two wide-scale habitat types (Long Leaf Pine and Bottomland Harwoods), three smaller CBA's, and the narrow ranges of two endangered amphibians. The regional boundary extends up the Mississippi Valley far enough to include areas of Late Successional Bottomland Hardwoods identified there.
West
This very large region includes 9 western states from Montana to Colorado and Washington. Five Specified Risk topics are included. One (Old Growth Forests) is spread widely throughout the region and not practical for avoidance. The others include Conversion centered in the urban centers of Washington and Oregon, two medium-scale CBA's in California and southern Oregon, and one endangered salamander range in southern California.
In the extensive areas described here, the FSC-US National Risk Assessment concluded LOW RISK for all the Controlled Wood indicators. If your DDS operates entirely in these regions – areas without Specified Risk – your company will not be required to design a Mitigation with the Control Measures described for the other regions.
Northeast
Including New York, New Jersey, and New England.
Midwest
Including the entire Lakes States region, from western Ohio to Minnesota, southward to Missouri, and western Tennessee.
Great Plains
The nominally "non-forested" regions extending from North Dakota to Texas.
Southwest
Including the desert states of New Mexico, Arizona, and extreme southern California.
MixedWood FSC CW Matrix
A more exhaustive and complete summary of official FSC documentation of US-NRA Control Measures and Mitigation guidance is summarized in the MixedWood FSC CW Matrix.
Last updated: April 29, 2020
©MixedWood LLC 2022 All Rights Reserved