Controlled Wood Club
MixedWood LLC
Implementation Support for FSC Controlled Wood
FSC NRA Region-specific resources
WEST: Pacific Coast & Rocky Mountains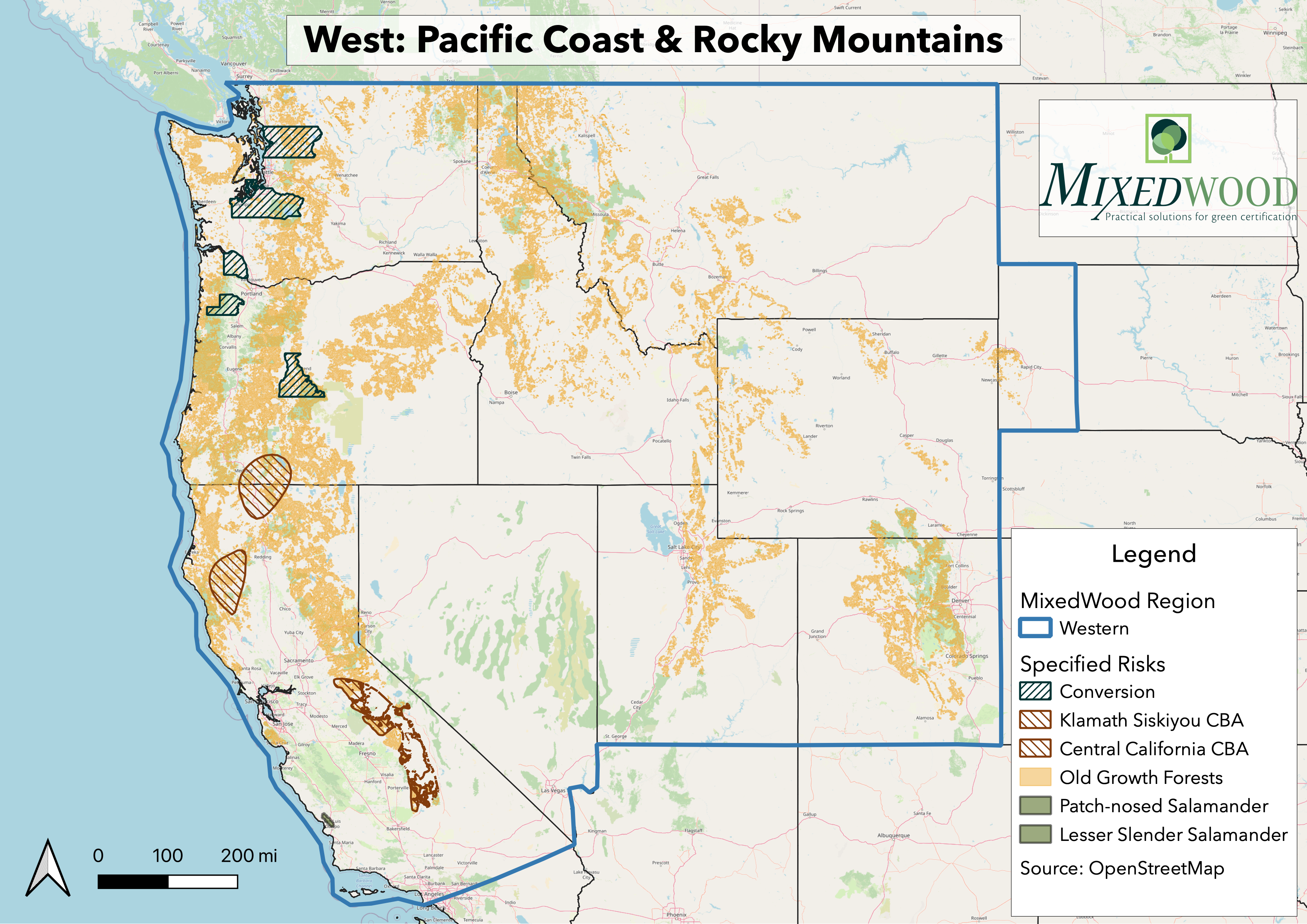 This very large region includes 9 western states from Montana to Colorado, California, and Washington. Five Specified Risk topics are included. One (Old Growth) is spread widely throughout the region and not practical for avoidance. The others include Conversion centered in the urban centers of Washington and Oregon, two medium-scale CBA's in California and southern Oregon, and one endangered salamander range in southern California.
NOTE: If your company's procurement does NOT  include coastal states (CA, OR, WA), it may be practical to exclude this area and address only a single Specified Risk topic (Old Growth).
FSC-US Controlled Wood Regional Meeting
The Controlled Wood Regional Meeting addressing the Pacific Coast & Rocky Mountain Region was held in Portland, OR on  August 14, 2018.
Five Specified Risk subjects are identified in the West (Pacific Coast & Rocky Mountains) Region: Conversion, a habitat type, two Critical Biodiversity Areas, and one rare species.  All are listed below, with links to detailed pages for each:
Conversion
Forest Conversion – widespread
Central California CBA
Critical Biodiversity Area
Klamath-Siskiyou CBA
Critical Biodiversity Area
Lesser Slender Salamander
Rare, Threatened, Endangered Species
MixedWood Fact Sheets: Western Bundle
Looking for all the Western Fact Sheets in one place? Click the link below for a lower-resolution fact sheet package that is quick and easy to download and distribute in an email.
©MixedWood LLC 2022 All Rights Reserved