Controlled Wood Club
MixedWood LLC
Implementation Support for FSC Controlled Wood
FSC NRA Region-specific resources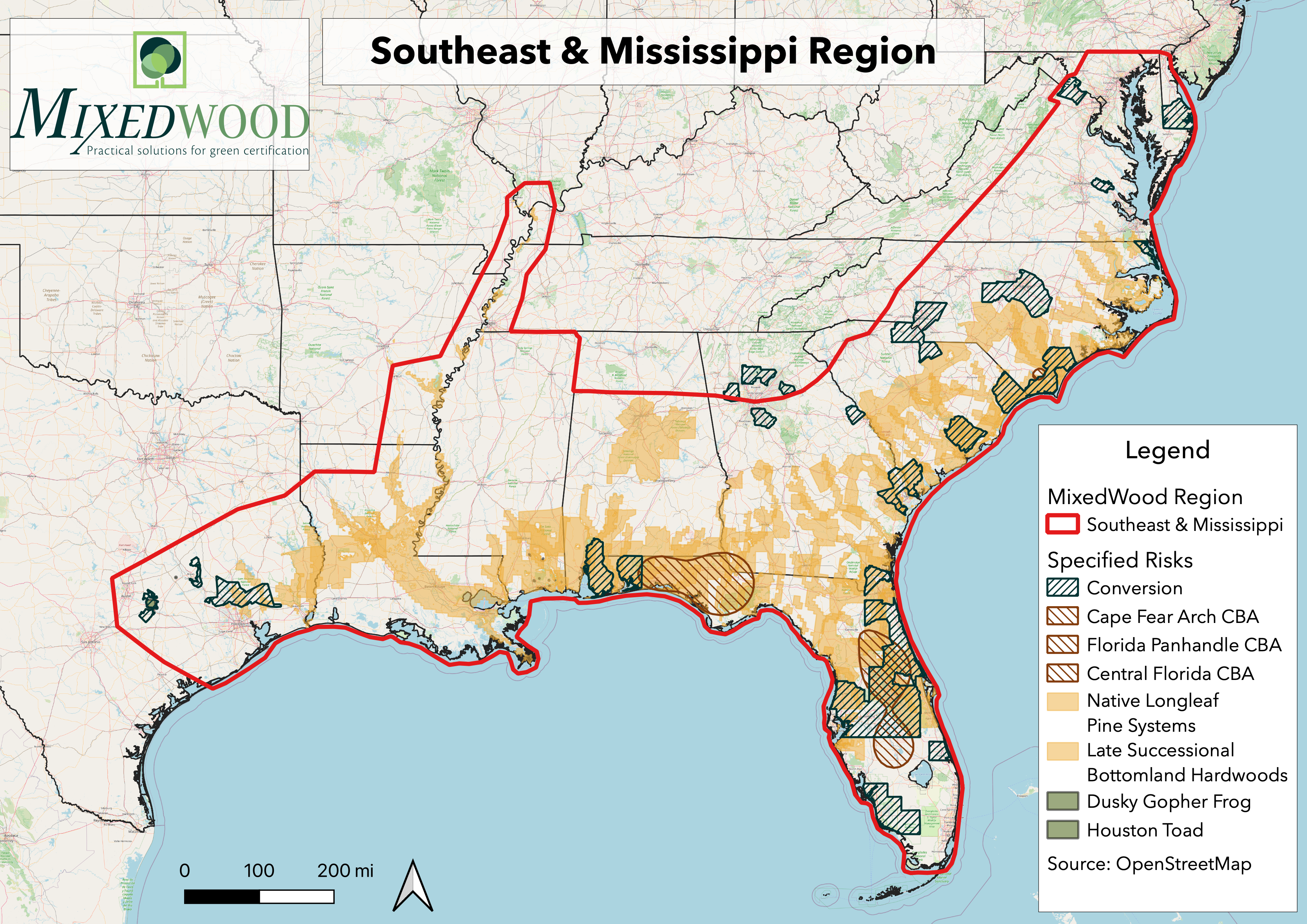 This expansive area includes large parts of the 10 Coastal States from Delaware to Texas (including Maryland, Virginia, North Carolina, South Carolina, Georgia, Alabama, Mississippi, Louisiana), and a portion of southern Illinois to the lower Mississippi Valley (including Kentucky, Tennessee, Arkansas, and Missouri).
NOTE: The extent of this region means that few companies procure wood from this whole area. Consider whether your company might avoid parts of this large region (and it's Specified Risk subjects). Give us a call if you need help.
FSC-US Controlled Wood Regional Meeting
The Controlled Wood Regional Meeting addressing the Southeast & Mississippi Alluvial Valley Region was held in Atlanta, GA on July 31, 2018.
The Specified Risk subjects identified in the Southeast & Mississippi Region are quite extensive: forest conversion, two habitat types, four Critical Biodiversity Areas, and two Rare, Threatened, and/or Endangered species.  All nine are listed below, with links to detailed pages for each:
Conversion
Forest Conversion – widespread
Native Longleaf Pine Systems
Late Successional Bottomland Hardwoods
Southern Appalachian CBA
Critical Biodiversity Area
Cape Fear Arch CBA
Critical Biodiversity Area
Central Florida CBA
Critical Biodiversity Area
Florida Panhandle CBA
Critical Biodiversity Area
Dusky Gopher Frog
Rare, Threatened, Endangered Species
Houston Toad
Rare, Threatened, Endangered Species
©MixedWood LLC 2022 All Rights Reserved