Controlled Wood Club
MixedWood LLC
Implementation Support for FSC Controlled Wood
FSC Controlled Wood
Due Diligence & Mitigation Outline
For USA scopes (v1.0 – Dec. 2019)
Conforming to requirements of:
FSC-STD-40-005 v.3-1 & FSC-NRA-US v1-0
Supported Approach to Due Diligence
& Controlled Wood
This outline provides an overview and description of the MixedWood approach to FSC Controlled Wood conformance.  It is intended as a reference guide for clients implementing FSC Controlled wood within a Chain of Custody system.  Contact MixedWood staff if you need advice or assistance.
The FSC Controlled Wood standard (FSC-STD-40-005 v.3-1) requires the implementation of a Due Diligence System (DDS), with a variety of specified elements.  The following step-wise outline will assist in design, implementation, and maintenance.
1. DOCUMENTATION UPDATE
The documented written procedures (i.e. CoC manual) maintained for overall conformance to FSC requirements should be updated and/or revised, as needed, to reflect current practice.  The manual should include a "Due Diligence System" which can exist either as a stand-alone document or be incorporated into the manual.
Specific items requiring attention during adaptation to the US-NRA include:
Adoption of the FSC-approved National Risk Assessment for the US (US-NRA) – replacing earlier company-based Risk Assessments (#3 below)
Update of the required DDS Public Summary. We recommend using a template provided by MixedWood
Records of mitigation activities sufficient to show the appropriate implementation of required Control Measures detailed below (#5)
2. SUPPLY CHAIN RISK ASSESSMENT
How ongoing integrity of the Supply Chain is managed:
Each CW company must prepare, implement, maintain, and document a Supply Chain Risk Assessment for its entire procurement program.  A typical Supply Chain Risk Assessment will consist of the following information.
Chain of Custody receiving checks: the CoC Procedures manual includes procedures that provide controls and verification checks for all incoming material.  This includes (at a minimum) the identity of the supplier, and the type of material purchased (e.g. species, grade, etc.).  It may also include additional, useful information like location, buyer, etc.
Regular supplier visits, observations, and general market intelligence by purchasing staff.
Maintenance of a Supply Chain Risk Matrix (or similar documentary system) to summarize information about suppliers and record a conclusion about "Supply Chain Risk" (i.e. the risk of mixing illegal or ethically unacceptable sources into the supply chain).
The working assumption of Supply Chain Risk Assessments in the US is typically "negligible risk". Any information discovered that is contrary to that assumption requires prompt action to address.
Supply Chain Risk Matrix How-To
Does your company use an SCRM? Need help getting started? Let us guide you!
NOTE:  Supply Chain Risk Assessment is not required for materials purchased as FSC-certified, or with FSC Controlled Wood claims provided by a certified supplier.
3. FSC NATIONAL RISK ASSESSMENT –
GEOGRAPHIC REGIONS, CONCLUSIONS,
AND REQUIREMENTS 
Each CW company must adopt and implement the FSC-approved National Risk Assessment for the USA (FSC-NRA-USA v.1-0).  A simple statement to this effect should be included in the CoC written procedures manual, or some other written record.
NOTE:  Company-based Risk Assessments (CRA's) are now fully obsolete and should not be referred to in your procedures manual.
The NRA conclusions, by region, are summarized in the table below.  Each CW company should compare the geography of their wood procurement with the regional boundaries used in the US-NRA (click the map for a closer look).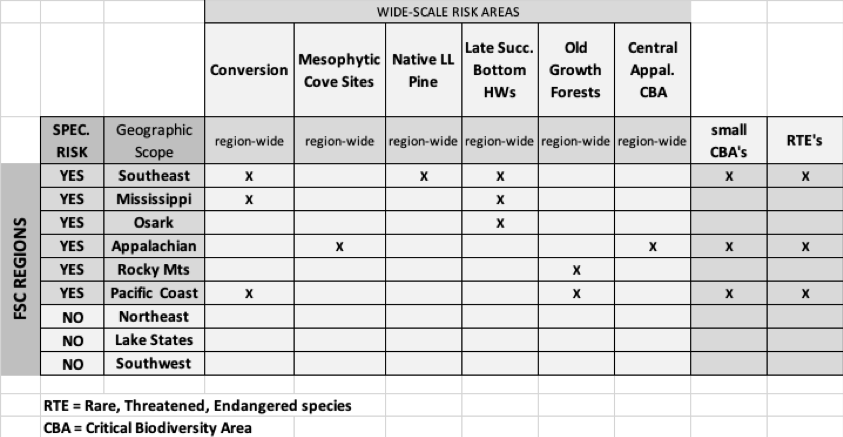 For sourcing regions where findings of Specified Risk are identified, FSC requires the implementation of mitigation actions, termed Control Measures.
4. CONTROL MEASURES – GENERAL DESCRIPTION
Implementation and documentation of Control Measures (CMs), are required by the FSC-US NRA, to mitigate impacts of its wood procurement in those portions of every CW company's supply area that include "Specified Risk" designations.  These CMs should include:
Active and engaged relationships with reputable suppliers;
Continuous market intelligence provided by procurement staff;
Supplier communication designed to promote conservation efforts related to HCV and Conversion risk within the procurement area;
Specific mitigation options defined by FSC-US Regional Meeting reports, including the following:
Procurement Policy
A statement defining our commitment to mitigation goals and intention to incorporate them into our procurement program
Education & Outreach
Providing suppliers with Guidance and Resource materials related to Specified Risk subjects relevant to the supply area
Providing Information
This is completed upon request to FSC-US regarding the effectiveness of mitigation efforts in the region
Specified Risk Subjects
Category 3 – High Conservation Value (HCV)
Rare, Threatened, & Endangered (RTE) Species
Critical Biodiversity Areas (CBA)
Broad-scale Regional Risks
5. CONTROL MEASURES – POLICY IMPLEMENTATION
NOTE: Applies in all Specified Risk regions
Procurement Policy
MixedWood recommends the use of Procurement Policy statement as part of a larger mitigation strategy.
Policy should be publicly available and can be included in Notices to Suppliers using templates available from MixedWood
Policy statements should address both HCV and Conversion risk
Sample Procurement Policy statements:
Company Name considers areas where forest management activities may threaten High Conservation Values (HCV) to be undesirable.  We request our suppliers to avoid these sources when possible or to appropriately mitigate the threats.  In both cases, we request appropriate prior notification.
Company Name acknowledges that significant conversion of forest to a plantation or non-forest use may have negative impacts on social, economic, and/or environmental values.  For this reason, we intend to avoid sourcing from forest conversion that is not both legal and limited.  We request appropriate notification from our suppliers about such sources.
6. CONTROL MEASURES – AVOIDANCE
Narrow-scope Specified Risk Subjects
For some Specified Risk subjects, a strategy of avoidance may be practical.  Consult the Specified Risk maps and descriptions for the subjects noted below.  Consider whether practical limits to procurement may exclude the designated area.
⇒ NOTE: Documented Rational
If any Specified Risk subject is to be managed through avoidance it is important that an objective rationale be recorded and included in the DDS documentation – reviewed and revised annually as required.
7. CONTROL MEASURES – GENERAL PROCEDURES
A) Education & Outreach
MixedWood recommends the use of "Education and Outreach" as the primary Control Measured to be employed for all Specified Risk subjects that cannot be geographically avoided (see #6 above).  A library of informational and reference materials has been prepared and will be maintained for this purpose on the MixedWood Controlled Wood Implementation website.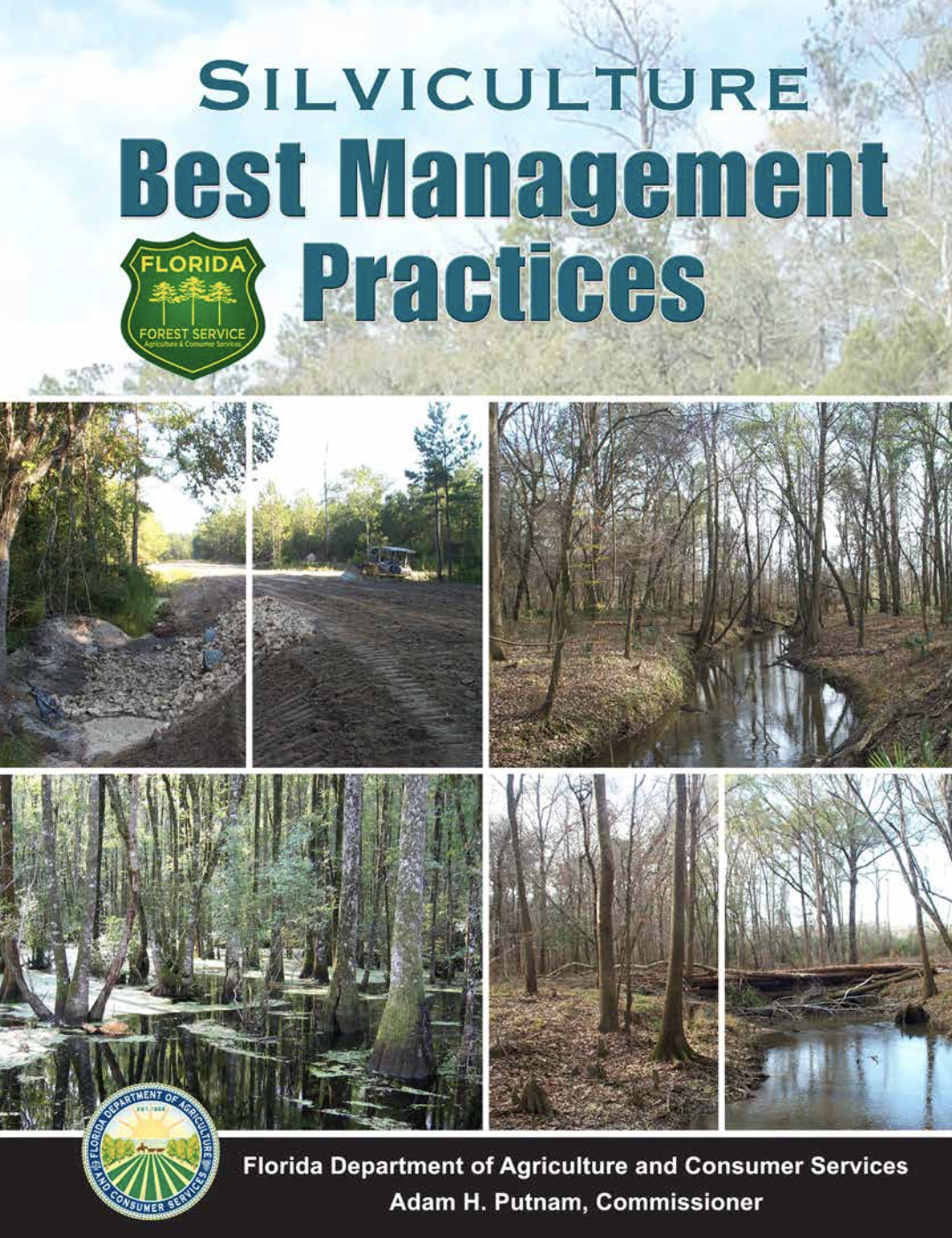 Mitigation materials are:
Prepared for each Specified Risk subject
Referenced to the existing policy, guidance, and promotional materials
Continuously updated – accessible online
Packaged for distribution to all direct suppliers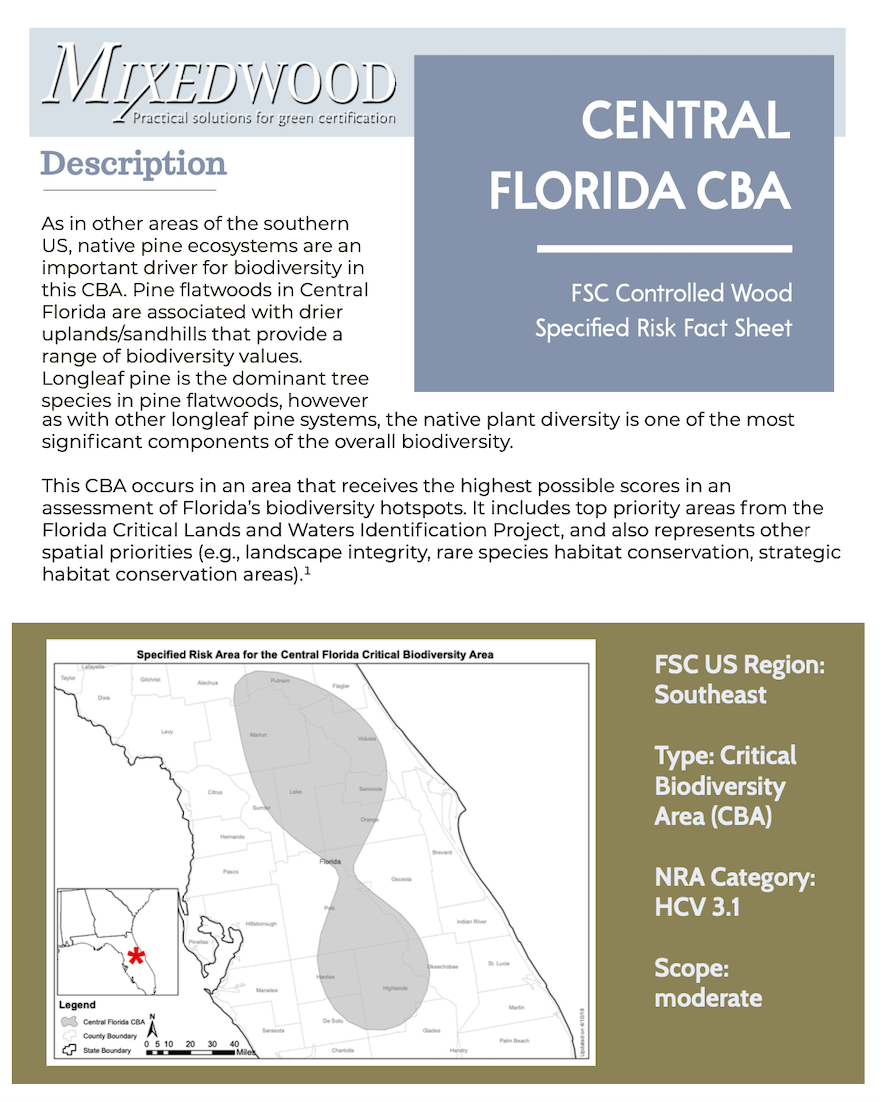 MixedWood recommends the use of Supplier Notices as a means of documented communications with the supply chain.
A standard template can be adapted for style and format but should include the minimum requirements listed.
Minimum requirements:
The company Procurement Policy (for HCV & Conversion)
An information-gathering request
A description of Education and Outreach materials
Supplier Notices should be distributed to all direct suppliers and updated periodically (annually if practical).  Acknowledgment of receipt is useful to demonstrate effectiveness but does not need to be 100%.
C) Information Packages
MixedWood has prepared and will maintain packages of relevant information and educational material related to each of the 17 Specified Risk subjects.  We recommend providing this material to relevant suppliers and soliciting feedback.
At a minimum, each supplier should receive the MixedWood Fact Sheet for each Specified Risk subject relevant to their area of procurement.
Education and Outreach materials are organized by FSC Region on the MixedWood CW Implementation website.  They will be reviewed regularly and updated as needed.  Please notify us promptly with any errors, omissions, or suggestions.
©MixedWood LLC 2022 All Rights Reserved